Let's jump right into what was probably my favorite scene of this section of The Deal of a Lifetime. "So we liked the ferry, both of us, me the way there and you the way back. I loved leaving everything behind, but you loved standing out on deck and watching Helsingborg appear on the horizon."
Leaving and returning – is that not the story of all our lives? There are the big moves but also the many comings and goings, as we travel to conferences, do visa runs, and so on. Does the unknown, the adventure, that comes with leaving hold an innate fascination for you, like it does for the main character? Or are you more excited to return home, like the son? Not being able to leave the city for almost six months due to Corona confirmed what I already knew: traveling and exploring new places is incredibly life-giving to me! Though that feeling of catching the first glimpse of your city, of your home, is certainly very special too!
This slight tangent aside, the scene also captures so well the relationship between father and son. Would it be possible for two people to be more different from each other? Their values, their approach to life – they seem incapable of understanding each other, of finding common ground. Until the very end. Only when he thinks he is dying does the father begin to appreciate his son's character and the choices he has made. In this section, he goes from "you were a disappointment" to regretting not saying he was proud of his son and even seeing the town the way the son always had. "It was our town then, finally, yours and mine". So very sad this only happened when it was too late. Oh to be someone who takes the initiative to build bridges with those I don't immediately click with!
What did you make of the main character's take on "happy people"? He says "Happy people don't create anything…all of your heroes, they've been obsessed… The happy leave nothing behind." I don't agree but also don't want to dismiss this out of hand. I'm convinced every human being creates (whatever form that might take for each of us) because we are created in the image of God, the ultimate Creator. We can't help it.
I have also seen people who appear particularly obsessed or driven to achieve. Perhaps they achieve good things but it can often come at great cost to those around them. The more I reflect on this, the more I wonder if this is an example of the duality we live in. The "imago dei" in each of us, yet our brokenness often twisting or subduing that urge to create, to bring about goodness for the benefit of others. Much to ponder there…
For such a short book, there is a lot to think and talk about! It felt a bit like a roller coaster – every time I turned the page, there seemed to be a different angle, something else to consider.
And then the plot twist! I did not see that one coming… What a journey the main character has been on, though! From running away from any kind of relationship and commitment to being willing to give up his future and his past for the sake of the little girl! And at a point when he really had things to lose. At long last, he realized the treasure he had in his son. There may well have been ways to repair the relationship, yet he was willing to give it up. And when even more was asked of him, he did that too. I'm still not sure what it was that brought about that change. Was it encountering the little girl, who just took him as he was, who trusted and accepted, at a time when he was confronted with what really mattered in life? What do you think?
Thank you so much for journeying with me through this unusual story! Hope you enjoyed the ride as much as I did!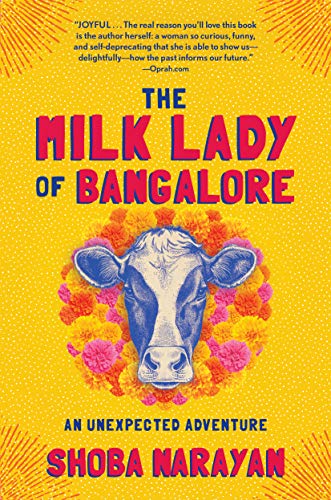 Join us in September as we read The Milk Lady of Bangalore: An Unexpected Adventure by Shoba Narayan!
From Amazon: The Milk Lady of Bangalore immerses us in the culture, customs, myths, religion, sights, and sounds of a city in which the twenty-first century and the ancient past coexist like nowhere else in the world. It's a true story of bridging divides, of understanding other ways of looking at the world, and of human connections and animal connections, and it's an irresistible adventure of two strong women and the animals they love.
Here's the schedule for the book:
Sep 1: Note, Prologue, and Ch 1-5
Sep 8: Ch 6-11
Sep 15: Ch 12-16
Sep 22: Ch 17-21 and Postscript
Photo by Fallon Michael on Unsplash