It is spring in the Midwest, USA, which means it can be snowing at the start of the week and sunny and hot at the end.
The temperatures soared up to 90 Fahrenheit (32 Celsius) recently and I found myself listless and irritable and not much fun to be around. It brought back memories of living in the tropics when the heat would not only parch my body but my soul.
Living overseas, whether we are in a perfect temperate climate, deal with extreme heat or cold, or love the weather but have another struggle, can bring our faults and failings to the surface. I struggled with shame for the ways the climate in Southeast Asia drained me, my lack of energy often hampering my desire to do the work I wanted to do.
It wasn't just the weather though. I was impatient with my teammates. I realized my inadequacies, and thankfully God's power stepped in and made a way where I thought there was no way. I struggled with hope, with compassion, with other workers who had a different viewpoint, with homesickness and jealousy and pride.
I was, and am, a broken messenger.
Why would God choose to work through us, broken humans who often think we know best?
I love the stories of other imperfect messengers in the Old Testament and was reminded of God's goodness to and through them in the section we read this week in Always Love by Sara Lubbers (Chapters 14-27).
The Israelites who rebelled and wandered after an incredible rescue.
Samson and his pleasure-seeking pride.
Jonah and his begrudging witness to the Ninevites.
We're in good company aren't we?
I identity with Jonah and his complaints as the sun beat down and he waited for the destruction of Ninevah to rain down. He had run away, yet God gave him another chance to obey. Even as he spoke of a way of mercy for the people if they turned to God, he didn't want to love this people who were his enemies.
At the end of Chapter 25, Sara wrote, "Often it is through such broken messengers that we see the Author's Always Love so clearly."
What a gift that is!
Is there a story that you identify most with from the section we read this week? How has God encouraged your heart as you serve Him as a broken messenger?
And now, hear more from Sara about how God brought this book about!
I'd felt stirrings to write a book for about six months prior, but life in SEA with three little ones left little margin for more than just dreaming about writing. Then, suddenly in 2018, I found my world turned upside down. God invited us away from SEA and into something new. But the leaving process included a miscarriage and saying goodbye to a team we had loved dearly. One day, I found myself sitting in a Starbucks in Denver, CO crying out to God to bring clarity to the season I was in—what in the world was He up to? And what did faithfulness look like in this season? Suddenly, I knew I wanted to write a book—and now was the time. From that day in May 2018 when the idea was "conceived" in my heart, to the day the manuscript was finished was exactly 9 months. So while I kept asking God for one last, real baby, I kept having miscarriages (four in all before the book was published), and ended up with a book baby. It was a hard season for my soul—so daily meeting with the Lord in His Word and daily writing about God's everlasting, faithful love as seen in the narrative of Scripture was exactly what my heart needed. Everyone in Scripture has to wrestle with whether they'll believe God's heart for them and rest in His love—despite circumstances. This book feels like a monument to how God met me in that season: Come what may, and no matter how much confusion accompanies it, God always, always loves me.
Join us in the comments! Has God birthed new life into a dream in your heart? What resonated with you in our section for this week?
Here's the schedule for the rest of the book!
May 18th– Chapters 28-41
May 25th– Chapters 42-53, Epilogue
Join us in June for a fun Young Adult Novel! We'll be reading Dust by Kara Swanson.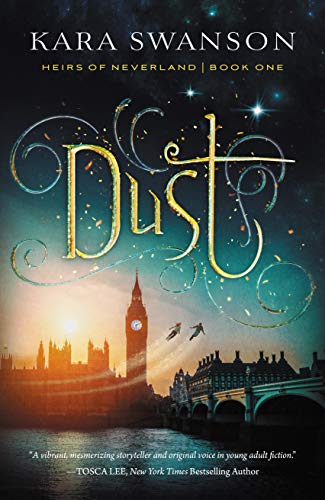 Claire Kenton believes the world is too dark for magic to be real—since her twin brother was stolen away as a child. Now Claire's desperate search points to London… and a boy who shouldn't exist.
Peter Pan is having a beastly time getting back to Neverland. Grounded in London and hunted by his own Lost Boys, Peter searches for the last hope of restoring his crumbling island: a lass with magic in her veins.
The girl who fears her own destiny is on a collision course with the boy who never wanted to grow up. The truth behind this fairy tale is about to unravel everything Claire thought she knew about Peter Pan—and herself.
Photo by Andrew Measham on Unsplash