Most of us can probably tell a team story.
That time you Googled and Pinterest-ed and experimented together to make the best holiday meal that almost tasted like home.
Or when one of you needed help navigating a medical emergency and the crew came together to watch your kids or translate or make food for your family.
Those moments when you were ready to give up and that team member wouldn't let you, reminding you of truth and purpose.
Living isolated in 2020 has reminded all of us about the importance of our people, of investing in community. Sometimes we take our teammates for granted, and it is easy to see the hard parts of team until we lose the connection that comes from doing life together.
I'm excited for our Book club read this month because I think learning to do life as a team is not just a once-and-done thing. We are reading Sacred Siblings: Valuing One Another for the Great Commission by Sue Eenigenburg and Suzy Grumelot.
Instead of splitting this book solidly in four sections that are equal in page length, we will read the book the way the authors laid it out. This week make sure you read the intros, because I really loved getting to hear more of Sue and Suzy's stories. These are ladies I wish I could know IRL, and I'm so grateful they invested the time to write this book. There are so many things I wish I had known while I was serving single on the field with both other singles and with married couples. There are things I wish I could have articulated more clearly, and these ladies give us the tools and language to do that.
I asked the authors to share a little more about themselves with you! Here's what they said:
Suzy: I have served in urban church planting in the Paris area for the past 32 years. Seeing God transform French hearts and lives, one at a time, had been one of the greatest joys of my life. I was born and raised in the land of the Great Lakes, Michigan. My parents were school teachers and gave me a healthy curiosity about life. I have 7 siblings; 3 brothers and 4 sisters, all now married. Some of them have become Sacred Siblings too…
Sue: I have been involved in cross-cultural ministry for over 30 years. Being married and having four children gave me the opportunity and challenge to invest in ministry within and outside of my home. Watching my children grow in their faith and being a part of teams where married and single people work together for God's glory in the world delights my soul. When one of my granddaughters recently told me she trusted in Jesus, I was delighted to tell her that we are not only physically related as grandmother and granddaughter, but we are also now sisters in Christ—'sacred siblings.'
One of the things that struck me in this section was the disparity between books written on marriage and books written on singleness. I'd love to know- what are some of your favorite books on either of those topics? Or what other resources have been encouraging as you have thought or talked about relationships in the past?
What's one of your favorite team/teammate memories? What is an area of being a teammate that you would like to grow in?
Share in the comments. I look forward to our discussion this month!
P.S.- I don't read a lot on singleness, mostly because it's rather painful for me. But, here are a few I've read in the last couple of years that I actually learned from and appreciated.
7 Myths about Singleness by Sam Allberry
Party of One: Truth, Longing, and the Subtle Art of Singleness by Joy Beth Smith
Remember God by Annie F. Downs
Here's the schedule for the book:
July 14: Section 1- Chapters 1-11
July 21: Section 2- Chapters 12-15
July 28: Section 3- Chapters 16-17, Appendices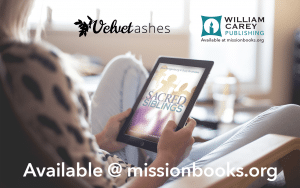 If you don't have a copy of the book yet, make sure you take advantage of this special gift from William Carey Publishing! Check out the book HERE, and use the discount code VABOOKCLUB50 at purchase for 50% off.
Photo by Hannah Busing on Unsplash
Join Denise, the Velvet Ashes Executive Director, and Sarah, the Program Coordinator, for our Facebook Live Summer series during the month of July! Each Thursday, we will chat with guests about topics like singleness, marriage on the field, and dealing with medical issues. Be part of the conversation by watching live and commenting with your questions and thoughts!

Our first Facebook Live topic will be Talking with Your TCKs about Racial Diversity. We'll go live on the Velvet Ashes Facebook page on Thursday, July 9th, at 9 AM ET. If you can't join live, make sure you catch the recording later on our page, or hop on for another live as we go through this series. Watch social media and our blog posts for each week's topic.