When my sons were babies, we had a few books of prayers for children. One was my oldest son's favorite, and we read it every night. He loved it because it was a lift-the-flap book and all the important family members were included in the prayer (even though they didn't look like our family). The text prays for God to bless each person. I honestly struggled with that text because what do we mean when we ask God to bless someone? And how would I impress that meaning on a 2-year old?
In Kenyan churches, the word bless refers to prosperity. When people pray to bless or be blessed, they are looking to change their fortunes. With that in mind, I avoid using the word "bless," unless I'm in a context in which I can define it.
Every time my son brought me the blessing book, I read it, but when we prayed together, we said, "Thank you, God…" To me, gratitude was a much better place to start learning how to pray. It didn't need to be defined because he had a frame of reference for "thank you" in everyday.
When Minli finally reached the top of Neverending Mountain in Where the Mountain Meets the Moon, I suspected she would only be allowed to ask the Old Man of the Moon one question. Even though she had gone through so much for the chance to ask her question, I hoped she would keep her promise to Dragon. It might mean not finding the answer to how to change her fortune, but it would change her friend's life. Worth it. She finally reached the Old Man of the Moon, and she read the word in the Book of Fortune, "Thankfulness," written over and over again.
I stopped reading at this point, looked at my kids, and exclaimed, "That must be what was written on the paper of happiness!"
The story that Ma told in the next chapter was possibly my favorite in the book. It wasn't a fairy tale like the others; it was her own story. "She was at last able to see that her daughter's laughter and love could not be improved by having the finest clothes or jewels, that joy had been in her home like a gift waiting to be opened…For all the time that she had been longing for treasures, she had already had the one most precious."
Minli had the same epiphany at the same time. "Fortune was not a house full of gold and jade, but something much more. Something she already had and did not need to change."
I think of my own habit of discontentment, my "if onlies." "If only things were like this or that, I could be satisfied." That state of discontentment affects me and my relationship with God, and it also affects people around me and my relationships with them. Am I setting an example of contentment and gratitude? Does my happiness and thankfulness cause others to wonder why I don't want to change my fortune? (Can I say I that I don't want to change my fortune?) Does my discontentment stir up discontentment in others?
Growing up in church, I lost count of how many lessons we had on Philippians 4:13. You know it: "I can do all things through him who gives me strength." Only when I read through the Bible on my own did I finally notice the context, which had not been emphasized in any of those lessons. Back in verse 11 was a challenge so profound that I clearly remember teenage me writing in the margin of my Bible, "This is a secret worth learning." Verse 11 says, "Not that I am speaking of being in need, for I have learned in whatever situation I am to be content." It's no coincidence that this comes in Paul's epistle of joy. Contentment and joy are inseparable, as are contentment and gratitude. They are all different attitudes, but they live together. Contentment "in whatever situation" is a secret worth learning, and I think gratitude is the first step.
Come on in to the comments. What are you taking with you from this book? What was your favorite part? Which characters did you identify with most?
Next week is Sabbath Week here at Velvet Ashes, so we won't be meeting for Book Club. Join us on July 7 as we start a new book!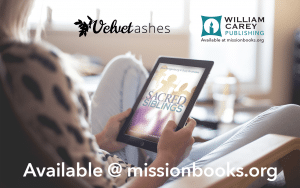 William Carey Publishing is again generously offering us a discount code for our July book! We will be reading Sacred Siblings: Valuing One Another For the Great Commission. Check out the book HERE, and use the discount code VABOOKCLUB50 at purchase.
Here's the schedule for the book:
July 7: Introduction 1 & 2
July 14: Section 1 (Chapters 1-11)
July 21: Section 2 (Chapters 12-15)
July 28: Section 3 (Chapters 16-17 and Appendices)
How do we process all the loss of this season? So many of us have lost plans, hope, structure, community, and even life of those around us or loved ones. This webinar, presented by licensed counselor Theresa Bonesteel of GRC, will help equip us with tools to process our grief and disappointment. Click on the button above to learn more and to register.
Photo by Joshua Sortino on Unsplash