They say you can't go home again, but we try, don't we? Then, we find that for all the ways we have changed, everything at home stayed the same. Or, what we missed (and hoped to submerge ourselves into on returning) has completely changed.
My family typically returns to the US every 18 months, for 2 months at a time. (Our next trip very likely will be pandemic-delayed.) Things change while we're gone, and we do too, but it's nothing like staying abroad for several years before a return home. And it's nothing like returning home for good, or for the foreseeable future, which might as well be the same thing.
Before getting married, I had lived overseas, just shy of a year. I didn't have much trouble returning to the US afterwards. My husband, on the other hand, spent 9 years in the US, taking just a few brief trips home to Kenya during that time. I learned about reverse culture shock vicariously when we moved to Kenya. I remember wondering how something could bother my husband so much when he is from here – he should be expecting it, used to it! I don't know whether Milk Lady of Bangalore will address reverse culture shock or not, but the topic of returning home and reconnecting with one's roots – when those roots are not in the 50 states – is what drew me to this book.
After 20 years in New York, Shoba Narayan repatriated to India. She narrates the experience by describing her friendship with Sarala, the importance of cows in India, and her efforts to "recapture the simple times of [her] childhood." Shoba wrote, "Milk is my way of reconnecting with the patch of earth that I call home."
What reconnects you with the place you call home after spending years in another country? (Whether that home be the place you were born, the place you spent formative years, the place you raised your family… is open for interpretation.) What brings the simple times of childhood back to you?
Shoba's connection with milk goes beyond drinking it and to the comprehensive process of cows, milking, boiling, making yogurt and paneer, etc. Still, I think of connecting with a place through eating. When we go back to the US, my kids insist on eating at Chick-fil-a ASAP. Chicken nuggets and root beer (easy on the ice) tell their taste buds and tummies that we are back in the country of their birth. When we come back to Kenya, my husband appreciates a pot of coconut beans and a stack of chapati. Or a big bowl of githeri. I grew up on quick, processed foods. Even though I can't handle processed food like I used to, nothing makes me feel like I'm back at home more than Kraft Macaroni and Cheese.
Shoba's friendship with Sarala is remarkable. It reminds me of African friendships, which are "about the sharing of woes." You may not hang out with each other just for fun, you may not know all about each other's lives, but together you share the weight of burdens and help each other solve problems. The purpose of the relationship is mutual benefit. This type friendship used to feel cold and transactional to me, but I have come to realize that there is a unique vulnerability and intimacy in sharing of woes.
There is so much information in this book about India, Hinduism, cows, and milk – history, folklore, nutrition and medical practices. It's all so interesting. The heroic cows of legends have been my favorites. Also, the history lesson about Indo-Iranians was fascinating. What new things have you learned?
Let's talk in the comments. What did you think about the beginning of this book? Do you find Shoba relatable?
P. S. I found an interview with Shoba Narayan here.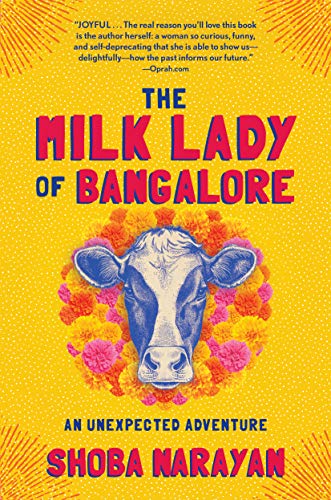 Join us in September as we read The Milk Lady of Bangalore: An Unexpected Adventure by Shoba Narayan!
From Amazon: The Milk Lady of Bangalore immerses us in the culture, customs, myths, religion, sights, and sounds of a city in which the twenty-first century and the ancient past coexist like nowhere else in the world. It's a true story of bridging divides, of understanding other ways of looking at the world, and of human connections and animal connections, and it's an irresistible adventure of two strong women and the animals they love.
The reading schedule is:
Sept 8: Ch 6-11
Sept 15: Ch 12-16
Sept 22: Ch 17-Post Script