Most of us have the privilege of holding the whole Bible in our hands. When we read a story that seems destined for despair, we can just flip the pages, start a new chapter, and see hope come on the scene.
I often wonder how the people in those times lived day in and day out, waiting. Watching their people carried off into exile. Crying out in the streets to deliver God's message but not seeing those prophesies come true. Following and wondering, "Is this the Rescuer we've waited for?"
Our section in Always Love for this week covers some of these bleak moments in the Old Testament as we make our way to the stories of Jesus' coming, his miraculous birth and unfolding miracles.
I've always appreciated the crafting of a good story: likeable characters, a villain of some kind, plot twists and cliff hangers.
It's a little different living it out, isn't it? I would rather have a clearly defined introduction and conclusion, thank you very much. Just give me the details for how long this season will last or when the answer will come.
God brought hope to his people in the long waiting periods and times when nothing made sense.
He gave visions to Ezekiel, renewing his hope and the belief that God was right there with him and his people in their exile.
Daniel learned this too. In chapter 29 of Always Love, Sara wrote, "Throughout Daniel's long life, he learned that the secret of living faithfully in exile was remembering that no matter how circumstances played out on earth, the Author is always on His throne. The Author's Always Love would have the final say, and one day the Rescuer would prove that to the world."
I'm really grateful that God gave us these examples of his faithfulness for when I'm feeling stuck in the middle of the story. When I want the quick and easy answer, or to take a peek at what's coming in the next chapter, I can lean into the stories of these ordinary but dearly loved obey-ers who clung to the promise that hope was coming and Love was near.
Maybe you are in a season where things don't make sense and you aren't sure what the end of this story will look like. Was there a story or chapter from this section that reminded you to keep holding on to hope?
How has God been deepening and growing your trust in His promises, in who He is?
We will wrap up our discussion of the book next week!
Want to dig deeper as you read this book? Sara has a free study guide on her website! You can find that here.
Join us in June for a fun Young Adult Novel! We'll be reading Dust by Kara Swanson.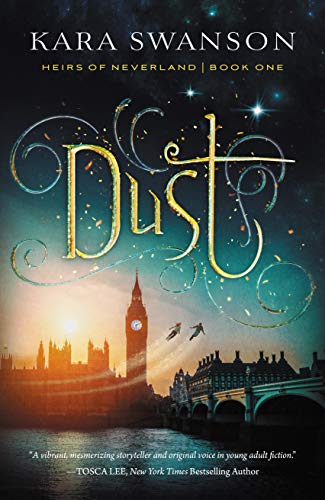 Claire Kenton believes the world is too dark for magic to be real—since her twin brother was stolen away as a child. Now Claire's desperate search points to London… and a boy who shouldn't exist.
Peter Pan is having a beastly time getting back to Neverland. Grounded in London and hunted by his own Lost Boys, Peter searches for the last hope of restoring his crumbling island: a lass with magic in her veins.
The girl who fears her own destiny is on a collision course with the boy who never wanted to grow up. The truth behind this fairy tale is about to unravel everything Claire thought she knew about Peter Pan—and herself.
Photo by Priscilla Du Preez on Unsplash