I remember the day we sold all of our possessions. We had been married 3 years and lived in an apartment, knowing we'd probably move overseas at some point, trying to be careful to not collect too much "stuff." But, wow, was it hard to watch it all go! We only told family and friends, but 30 minutes before we opened the door, there was a line! I guess they knew they'd get a good deal on barely-used items. Especially since my dear hubby was in charge of the pricing. Priced to GO. Like, most items under $5. Including small appliances and a whole set of silverware. People ran into the house with their initialed stickers, ready to label what they wanted. It. Was. Chaos! Everything flew out the door in the matter of two hours.
It soon started to set in that we'd be moving in a week and had to fit everything we wanted into 6 suitcases (thankfully we bought a seat for our 1 year-old to get extra luggage!). I'd gathered several lists from other mommas who had lived in China for a while, trying to prioritize. It was tough! Because every city is different, I didn't know what food items would be available to us. That stressed me out. At the time, I was a terrible cook and didn't know what to take that would help ease the painful transition of learning how to cook in a new place.
Over the past 4 years, I've learned what is important for our family to take over. I also start a list (on the fridge or on my phone) of items I want to bring back the next time. It gets long, but definitely helps me buy things during that last grocery store run. Here are some things I make sure are in our suitcases (mostly—nowadays my Taobao-savvy husband just tells me I can buy everything on there!):
Spices: paprika, garlic powder, Lowry's seasoning salt, ground cardamom (for my CHAI tea; buy it at an Indian store if you have one), onion powder, ground mustard, ground ginger, ground cloves, ground coriander, lemon pepper, sage
Coconut oil
Baking powder
Curing salt
Seasoning packets (Ranch, taco, chili, Italian dressing—can be homemade, but once in a while these are easier!)
Cream of tartar
Food coloring
Extracts: vanilla (although I make my own—easy with vodka and vanilla beans), almond, peppermint
Coffee and tea
Comfort foods (mostly for the kids, such as a fun box of cereal or a box or two of mac n' cheese)
Chocolate chips
Crisco (I now buy it on Taobao, but in the early days I'd bring back a small can for the 2 recipes I use it in)
Seeds to plant herbs—first year trying this!
Some handy kitchen utensils: measuring cups and spoons, pastry blender, muffin tins, cupcake liners, pastry bag, cooking spray or oil sprayer, pepper grinder
Since we're on home leave in America right now, I'm being inundated with blueberries. I just found out July is National Blueberry Month, too! So, let's make a delightful blueberry recipe. I could eat these plump berries by themselves all day long, but also love this recipe. I love it even better than any blueberry muffins I've made! I know. Big statement. Try it out and see if you agree!
P.S. When in China, blueberries are expensive and only come around at what seem like random times of the year. I discovered they were the "cheapest" last summer, so just included 2 small containers in my weekly budget, then froze them. I had a decent stock that I could make this as a special treat throughout the year!
My parents have this handy sifter, but when in China, I just use a fine mesh strainer. 'Bout the same!
The beginnings of such deliciousness!
Not a good choice of mixing bowl…pretty sure I splattered batter all over the kitchen!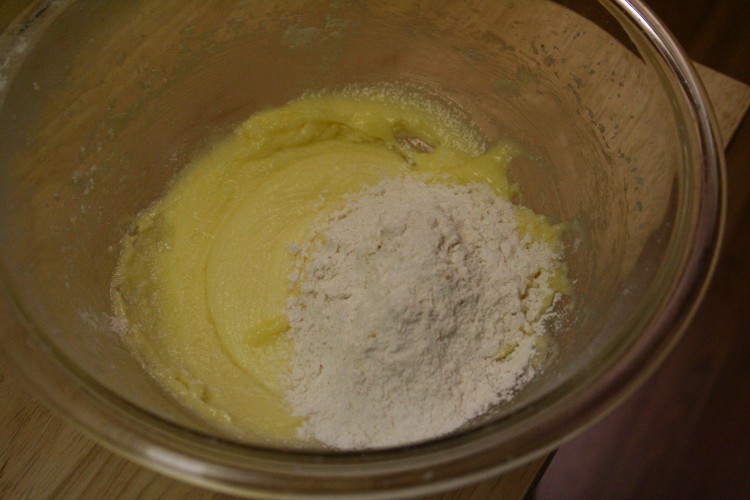 Start with flour, end with flour. I'm not savvy enough to know why, but I've baked enough to know to do it.
Look beyond the mess to see the creamy batter!
Yummy, plump(-ish..these were frozen) blueberries! Picked from the farm are the best! At our local farm, the kids get to tie a bucket around their waist and pick (and eat!) to their heart's delight.
The topping–how can you go wrong when it has butter in it?!
Looks so pale now….just you wait.
Blurry, but you get the gist, right? Make sure you let it rest in the pan that extra 10 minutes, otherwise it will come out a crumbly mess!
Juice blueberries mixed in with muffin-like cake and a buttery crumble topping. Yum, yum, yum!
Blueberry Buckle
Time: 1 hour 10 minutes
Makes: 1 9-inch cake
Slightly adapted from Alton Brown
For the Cake:
2 cups cake flour (or see this substitute)
1 teaspoon baking powder
1/2 teaspoon salt
1/2 teaspoon ground ginger
4 Tablespoons butter, room temperature (unsalted if you have it, if not, add only a pinch of salt to recipe)
3/4 cup sugar
1 egg
1/2 cup milk
2-3 cups of blueberries (I usually only use 2 cups)
For the Topping:
1/2 cup sugar
1/3 cup flour
1/2 teaspoon nutmeg
4 Tablespoons of butter, chilled and cubed
Preheat the oven to 375 degrees F.

Spray a 9 by 9-inch glass baking dish with nonstick spray (or coat with butter) and set aside.

In a medium mixing bowl whisk together the flour, baking powder, salt and ground ginger. Set aside.

In a large bowl, beat together the butter and sugar on medium speed until light and fluffy, approximately 1 minute. Add the egg and beat until well incorporated, approximately 30 seconds. Add 1/3 of the flour mixture and beat on low speed just until incorporated and then add 1/3 of the milk and beat until incorporated. Repeat, alternating flour and milk until everything has combined. Gently stir in the blueberries and pour the mixture into the prepared baking dish.

For the topping:
In a small bowl combine the sugar, flour and nutmeg. Add the butter and work into the dry ingredients using a fork or your hands (or pastry blender!) to combine. Continue until the mixture has a crumb-like texture. Sprinkle the mixture on top of the cake. Bake for 35 minutes or until golden in color. Cool for at least 10 minutes before serving.

What food or kitchen items are must-haves for you?
Disclosure : Amazon Affiliate links included in this post.  If you click through to Amazon, any purchase you make supports this site.