After thirty-two years on the field I did something I'd never done last year.

When I received my 2018 invitation to the Velvet Ashes "Sustain" retreat, I sensed from the Lord that I was to not only participate in this amazing event, but I was to go away for a week, by myself, in order to fully receive all that He had for me.

The previous year, when I stumbled onto the online retreat just days before it went "live", I had no idea what it was or what to expect. But God used it profoundly in my life as I sat at my kitchen table in the Czech Republic on that April 2017 day, immersed in God's presence during the "Receive" retreat.

As soon as I finished that rich day of being blessed by so many thoughtful elements of the event, I started looking forward to the next year. And so it was in April 2018 that I found myself in Croatia after having spent a week alone in preparation for what I hoped the Lord had for me again.

Having planned many an event over thirty-two years of ministry, I have been so pleasantly surprised each year by these retreats. They are brilliantly designed! While I don't know the Velvet Ashes team personally, I can tell they have invested a lot of time, heart and passion in it. And no doubt they've covered the retreat and women in prayer ahead of time. I felt it the entire time during each of the retreats I've participated in, sensing clearly that the Spirit was moving and speaking to me.

Sometimes in really crazy ways.

Last year there was a section of teaching with reflection questions to answer. I spent quite a bit of time responding to the Lord in writing, and was eventually so moved by something that I went out onto the terrace where I was staying, to stand with my arms lifted up to Him to signify a new commitment.

Just a few minutes earlier, as I was journaling, I had written, "I know You're in this and I am going to go outside and stand in faith that what You're telling me is true. But oh how I wish there was a way You could confirm it to me."

After standing on the terrace and telling him this out loud (hoping the neighbors didn't hear me!), I opened my eyes and noticed a boat cruising by in the Adriatic sea ahead of me.

What led me to get the binoculars to look at it is one of those mysterious things that can only be explained supernaturally! I hadn't used the binoculars all week, but had gotten them out that morning and set them on the table for the retreat, without knowing why.

When I zeroed in on that boat, going by at that moment, my eyes nearly popped out of my head when I read the name on the boat.

EMANUEL!!!

Do you know what the Hebrew name Emanuel/Immanuel means? GOD WITH US!! I nearly fell off the terrace as shivers went through me, knowing that MY God was truly with me in that moment.

I looked it up later and sure enough there is a tour boat agency in Croatia called Emanuel Tours that I didn't know existed and had never seen before. But of COURSE, the Lord would show it to me on the very day when I needed His affirmation. It was so stunning of Him!

Velvet Ashes retreats are multi-faceted with not only spiritual input, but also possibilities for physical activity, artistic endeavors and body care. That day in April 2018 I wasn't up for their kickboxing activity, so decided to take a walk instead to process all that I'd read and interacted with during the retreat.

The Lord even met me there! Grapevine shapes in the clouds and simple flowers in the middle of the dirt path all had significance to me as I walked and talked with the Lord about elements of the retreat that had spoken to me.

I finished the retreat late in the afternoon, so full of love for the Lord, and thankfulness to Him for this team of women who care about women like me and want to invest in us.

That April day I came away to a quiet place and the Lord met me there. As we approach this year's retreat, I am absolutely full of anticipation for the unique ways He will again speak during this profoundly impactful event.
You're invited to join in this year's retreat! The early bird registration rate is only available now until March 5th.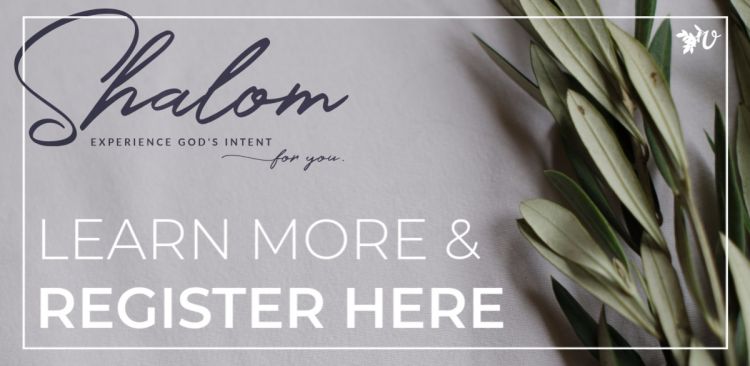 When is a time God has met you in a surprisingly personal way?
Photo by Atharva Tulsi on Unsplash