"Teammates would come, and teammates would go…and teammates would come, and teammates would go. We suffered our own little family whiplash with the loving, longing, and losing and replaying it all again." — Denise, VA Retreat
If you've been in this line of work for more than 5 minutes, you know how true this quote is. Goodbyes, see you laters, welcomes, and transitions. So many transitions. The ebb and flow of cross-cultural workers is a constant.
By His grace, as far as we know, our team will remain the same from this year to next year. In nearly 8 years of serving with this org, this hasn't happened a single time. I'm sure you can relate. We have either welcomed or said goodbye to teammates every year, if not every semester.
We are part of a teaching org with some gaps in our schedule, so we have the unique opportunity, I know unlike a lot of you reading, to return "home" every summer to see loved ones, raise support, and take a break. Most of the time, I wish I was like most of my colleagues who make the trek back every summer, but our family has stayed in-country every other summer a few times and have actually enjoyed it! Sure, we miss the BBQs, water parks, and endless fun with friends and family, but we have gained much richness from relationships because we remained.
You see, in this country, the kids study, study, study during the school year, making it difficult for my kids to build any friendships. Their parents, often teachers, also work long days during the school year. So the summer, although not completely wild and free for the locals, at least opens up some time for us to hang out more.
Even with the prospective play dates and Asian-style BBQs this summer, I was feeling sad we wouldn't have any connections with Westerners for an extended time this summer, since all of our teammates will return. So, we invited our families to come. We have mentioned several times before that we would love for them to come and visit, but it's expensive and timing is tricky.
My parents have been before, so encouraging them to come again took some convincing. We're in a new city! We live close to some major tourist spots! You can see the grandbabies! With that last one, they were in.
Giving our loved ones the chance to see our lives, where we live, the people we serve, and just what our daily life looks like is monumental in their understanding of why we uprooted and moved halfway across the world. Their perspective changes dramatically; they can see, touch, taste, and smell where we live, and interact with our dear local friends. This is a game-changer for future conversations, and they can even help explain things on the homefront that we aren't always able to.
Remaining during the summers, our slow season, and inviting our loved ones to join us in getting a better picture of why we are here can help us to remain here longer. Because isn't family what often draws us back to our home country? We miss them dearly. We long to be near them. We miss the comforts of "home." But what if they could see what we do where we are, see the impacts He is making through our work, and in turn support us in better ways? It's worth a try! If you end up without some of those benefits, well, at least you got to watch them squirm at using a squatty potty or eating some squishy tofu using little wooden sticks.
What does it look like when you remain as you watch others leave? What helps you remain where you are?
*****
Chocolate syrup is a real treat around here. Good milk isn't cheap, so sprucing it up with chocolate syrup isn't something I think of doing. But, when I do want to give everyone a treat, this syrup is a cinch to whip up with simple ingredients, and lasts us a long time!
Cocoa powder and sugar–the start of the simple ingredients list.
Careful when it starts boiling–it gets going fast!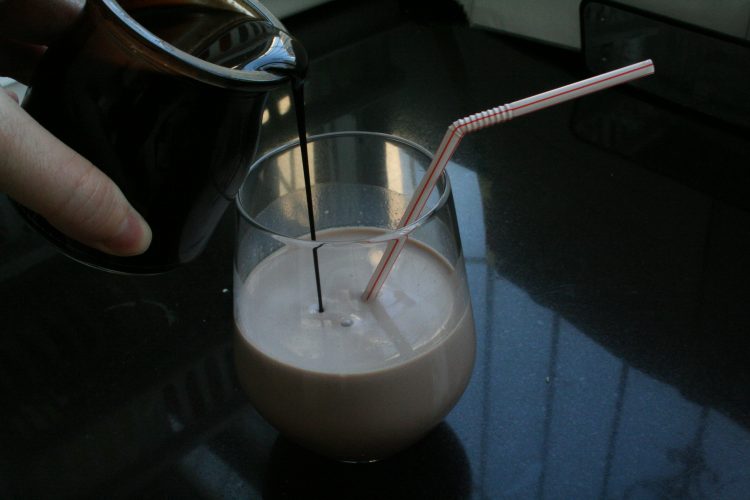 Looks like someone snuck a drink while I was snapping pics. There were 3 little people hovering!
This syrup tastes way better than any of that store-bought stuff! It's rich so you don't need as much, and doesn't have that funny after taste. Make some and enjoy!
Simple Chocolate Syrup 
Makes: 2 cups
Ready in: 15 minutes
Borrowed from: Annie's Eats
1¼ cups sugar
1 cup unsweetened cocoa powder
1 cup water
¼ tsp. salt
2 tsp. vanilla extract
In a medium saucepan, combine the sugar and cocoa powder and whisk briefly to break up any clumps.  Stir in the water and salt and bring to a boil over medium-high heat, stirring frequently.  Once the mixture reaches a boil, reduce the heat to medium-low and let simmer until slightly thickened, about 5 minutes.  Remove from the heat and let stand for 5 minutes.  Stir in the vanilla.  Store in the refrigerator.