My husband and I have been reading through the Bible separately, yet together, for a while now. We each read at our own pace, then once a week take time to sit, skim over, and discuss what stood out or what we learned from that section. It's brought us closer spiritually and we've been able to learn from each other. It's been a sweet time.
Several months ago, when I read Habakkuk 1:5, the verbs seemed to jump off the page:
"Look among the nations! Observe! Be astonished! Wonder! Because I am doing something in your days—you would not believe if you were told."
Over the past few years, the country we serve has tightened things down a lot. More rules, more restrictions, more consequences. It's been hard to watch foreign colleagues given 24 hours to pack up and leave the country. It's heartbreaking to see story after story of local colleagues be punished for living out their beliefs.
Deep in my heart, I know the Lord will work it all for His glory. It's what He promises. It's just excruciating to see up close and so personal.
Recently, He has opened our eyes to a sliver of what else He's up to here. The high officials have created a plan to recreate some old trade routes. They're building and giving jobs to people across several nations from the Middle East, to Africa, to Europe. It's a huge deal. We quickly figured out their underlying drive: power.
Part of the deals with these countries includes sending some of their students to universities here to study for 2-6 years. On our college campus, we went from 15 foreigners out of 40,000 people to over 200 foreigners, in what seemed like overnight.
Suddenly, we were running into students from Tajikistan, Pakistan, and Bangladesh. The young man I met from Yemin was especially touching. All I could think of was how fortunate he was to escape his war-torn country to get a college degree. These students were so happy to meet another foreigner who spoke English. We shared an instant bond—we were the outsiders.
As we got to know some of these students, He revealed to us what He had planned all along. They are out of their oppressive countries for a good while, not really keeping up practice of their cultural beliefs, and open to hearing other perspectives. He brought these future leaders to the doorstep where there are millions of followers, more than ready to share the Good News. None of us could've fathomed a grand, powerful plan could actually be part of reaching the unreached. What a creative God He is!
It seems like serving here is uncertain, changing every day. It is. And it isn't. To our narrow view, it seems unfair. To His all-encompassing view, it's what He knows needs to happen to fill up His kingdom. If I didn't have that Hope to cling to, I'd be one, hot mess.
Habakkuk reminds us through these powerful verbs to look at what God is doing, not just where we are, but all around us. He's using every one of us to knit together part of His story…maybe we just can't see it yet. But are we looking?
A few years ago, our annual conference theme was "Remember." I often look back on those notes—they were a powerful set of sermons. Many times throughout Scripture, the Lord urges us to remember what He has already done. Look at what He has already accomplished. Let the miracles, answered prayers, and holy moments not be forgotten. I know we all have these stories. When we're in the trenches, those are the stories we need to plead with. He was faithful. He is faithful. He will always be faithful. Take some time to look around, observe, be astonished, and wonder at the mighty works He is doing. I guarantee you won't be disappointed.
When you look around at what He's doing, what has surprised you?
****
Maybe I'm late to the game. If you already knew this trick, good for you! I recently bought some Korean brown sugar online (because local brown sugar is weirdly dark and has chunks as hard as rocks that must be sifted out), but it was different than before. It was tan and dry. Right color, wrong texture. The brown sugar I'm used to is like wet sand. I used the first bag as is, but it ruined a batch of cookies—they turned out hard and crunchy. I blame the dry brown sugar. So as to not waste the second bag, I sought out answers. Who knew it would be this easy to make your own?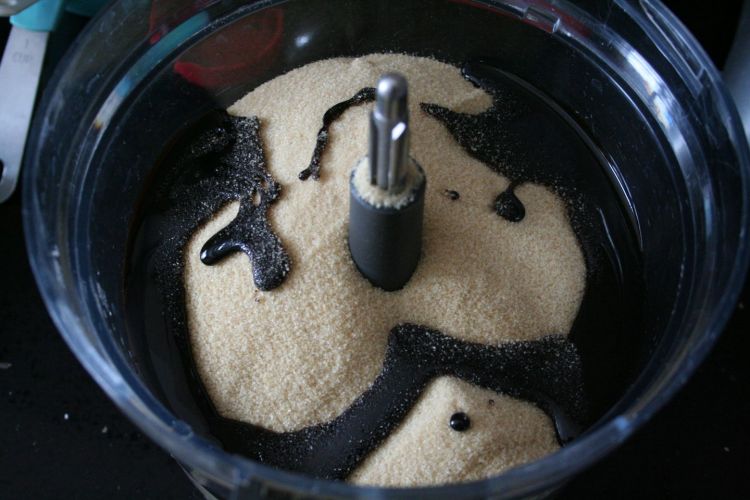 Homemade Brown Sugar
Ready in: 5 minutes
1 cup granulated sugar (I know the pics show "brown," but this recipe is actually for white)
1 Tbsp molasses
Mix sugar and molasses in a food processor or a bowl with a fork until completely mixed. Use immediately or store in an airtight container.
Notes:
*If your brown sugar clumps easily and quickly, just make small batches and forget storing it altogether!
*If molasses isn't available, you could also try pure maple syrup. This will change the flavor slightly, obviously.