Many of us arrive on the field armed with little more than good intentions and a partner by our side.  Little do we know how much our marriage relationship will go through as we enter a new world and try to live out those good intentions.
We've had some incredible posts this week about how marriage is the beautiful hard, how it means saying "I do, still" and how healing means forgiving your husband.
Today I'm offering up "6 Ways to Build into Your Marriage Overseas" because the health of our marriages will make or break us.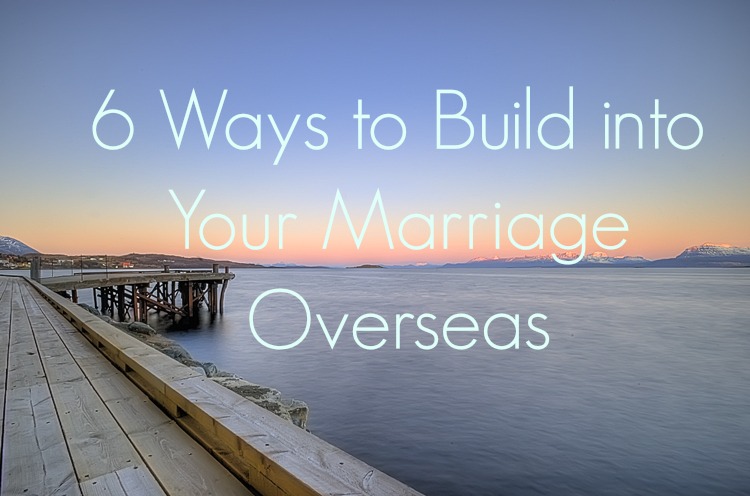 1.  Be each other's barometer.  In this life overseas, you have a built in barometer, someone to read you and tell you when you're getting to the "danger zone," when the pressures and stress of life are getting to be too much.  Spouses need to throw each other a life saver and say, "You need a break.  Let's make that happen."
Sometimes it will feel like a teeter totter, as you take turns being the one down.  But have you noticed how when one of you is down, the other becomes strong, knowing it's time to pull for the both of you?  Somehow in the back and forth, the up and down, the dance of marriage, the both of you grow stronger.
2.  Collaborate, don't compete. Many couples aren't prepared for the competitive edge that can sneak into the marriage relationship when you serve overseas.  In your previous life, your roles and responsibilities may have been more clearly defined into "his" and "hers."  Start life in a foreign place and suddenly those lines can get blurry.  Suddenly you're both learning language.  Maybe one of you has a knack for it and the other…doesn't.  Maybe you're working side by side, one of you shining more brightly, the other left trying to hide feelings of jealousy.
Lean into each other's strengths and remember you are one.  Your successes are his, and his are yours.  Say the words, "I'm proud of you" and then live it.  You have more power than you know to encourage him.
3.  Re-define fun together – Things you did for fun together in you pre-overseas life may be difficult or impossible now.  So it's easy to simply stop having fun together, not consciously, but simply because you don't know how to have fun where you are.  Marriage without fun loses it's spark, so make fun a priority.
I remember in our first year in China, we were clueless about what to do for a date night.  So one night, my husband pulled out some dice and said, "Here, whatever number you roll that's how many stops we're going to go on the bus.  Whatever we find at that bus stop is going to be our date."   Guess where we ended up eating?  KFC!  Who knew KFC could be fun?  Of all our dates that first year, THAT is the date we remember.
So keep experimenting.  Some things will definitely flop, if you let it, the flop can be part of the fun.
4.  Sneak something special into the luggage –   Let's be honest, gift-giving in a foreign country can be… difficult and sometimes disappointing.  (Although did you ever imagine you'd get so excited about a box of imported cereal??)
On your next trip back to the States try to pick up a special something that you can hide in your luggage and pull out for his birthday, your anniversary, or Christmas.  My husband is WAY better about this than I am.  He's a pretty amazing gift-giver, and I'm…usually not.  But I know how loved I feel when I open a gift that he's planned and prepared for.  So I'm trying to love him like that, too.
5.  Budget time and money to be together, weekly and yearly.  There's probably a reason why this advice is printed in every marriage book ever written (only a slight exaggeration).  And yet how often do we not do this because it somehow feels selfish?
Do you plan a night away for just the two of you during your trips to the States?  Or do you let the expectations of family, friends, and supporters rule your schedule?  Is a regular date night just too much of a hassle?
Frankly, the longevity of our service overseas depends on the health of our marriage, and without intentional nurturing and investment, the relationship will grow weaker.  Time for the two of you doesn't need to be extravagant, but it does need to happen.
6.  Believe in each other's dreams.  I remember  a year ago when Velvet Ashes was just a dream.  I was hesitating to take the plunge, to put it out there and see it become a reality.  I asked my husband if I should really do this.  He said, "Of course you should.  Haven't we seen God's hand all over this?"  He believed in me when I doubted myself.  And he's made this dream possible by making it a priority in our life.
I was the one that told him that "Yes, you are meant for this PhD program."  It's a big load for our family, but when you believe in something for your spouse, you make it happen for them.
But you also remember at the end of the day, on the other side of the dreams and goals for life, there's the two of you, and that matters more than it all.  My husband would sooner turn in a major paper late than cancel a night out with me.  If I fret about that for him, he simply says "You matter more."
And he's right.  I do.  And he does.
The beautiful oneness that is us, the dim and cracked reflection of Christ and his Bride, it matters.
*****
How do you build into your marriage overseas?  Come share your heart, your words, your art on our prompt "Marriage."
Here's how:
You can share with us in the comments, if you don't have a blog of your own. We have the amazing ability to post images in our comments! So post images of your art and/or share your words there.
If you write a comment, please avoid copying and pasting from Word as this will publish a lot of junk computer code.  It's best to type it directly into the comment box.
If you have a blog, write or make art based on the prompt and join the link-up!
Be sure to add the Velvet Ashes link (https://velvetashes.com/the-grove-marriage/) to your blog post.  You can add the prompt image too!
Please select the permalink from your post (so not your blog's url,www.daniellenotyetthere.blogspot.com but your post url:http://www.daniellenotyetthere.blogspot.com/2013/11/todays-day.html)
Click on the blue "Add your link" button below to add your blog post to this page.
It will walk you through selecting which image you want to show up in the linky.
Then your picture and link will show up below!
Then be sure to go visit each other's sites and share some comment love! It's the rule. We applaud brave hearts!
If you're reading in email, be sure to click "Read in Browser" to go to the site to view the link ups and conversation in the comments.
Photo Credit: eflon via Compfight cc
Photo Credit: ~~~johnny~~~ via Compfight cc