Our first two years living overseas were the worst of our marriage. There was culture shock, cooking fails, language barriers, and so many other obstacles. I spent the better part of those two years frustrated and crying.
We originally committed to two years of service, so deep down in my heart, even though we felt called here long-term, I had hoped we could go home after our two years.
And then my husband suggested we go to language school. Specifically, me.
Um, what? That wasn't part of my secret plan to return!
After talking with others who had been around the block longer than me, I realized that even though it sounded impossible to learn Chinese, I needed to try. Some of the most convincing stories came from mamas who hadn't taken the opportunity or had the chance to study the language. There were stories of regret. There were stories of families returning somewhat because the mama was a stay-at-home-mama raising littles in a foreign land, but involved in little else. (Ohh how I knew that feeling well!) There were stories of fear.
Somehow, God got ahold of my stubborn heart and helped me get to the mental and emotional state to move for the 3rd time in 3 years to what we lovingly call Chiberia to study Chinese.
It was grueling. When we arrived, our 2nd child had just turned 1 and I hadn't weaned him from breastfeeding yet. I spent the first month of language school waking him up to feed before I left, racing home at lunch to feed again, then racing home again after another few hours of tutoring to switch with my husband so he could go to a class. Then I put on my mama hat until the kids went to bed, when I then tried to stay awake long enough to do a little homework.
Let's just say that year was a blur.
Blurry and humbling as it was, it was so worth it. I not only came away from a year of full-time study with some conversational and reading skills, but I had also learned several spiritual lessons that broke my pride again and again.
These past few weeks, I've reflected on that time in my life, the time I wanted to leave this country so badly. Perhaps because those feelings have resurfaced as I now feel trapped since there is still no clear pathway back if we leave, thanks to the virus. The feelings of immense gratitude and humility have risen to the top, though.
Although not as bad as it was last year, we're still facing some foreigner discrimination when we encounter people on the street. Most continue to hear all the bad news about our home country and immediately assume we just arrived from the States, so we must have the virus.
The comments and stares have increased recently because we moved to a new apartment. We're the newbies. Again. It's a slow process to get to know neighbors because most locals aren't friendly to strangers. So I've started with smiles and small conversations in the elevator. It will take time.
Last weekend, we had 20-some friends over (mostly foreigners) to celebrate our oldest son's birthday and have an open house. When they all left, the gate guard lost it and questioned some of them, asking where their masks were (there is no mandate to wear them now), why they were all gathered here (there is no mandate against gatherings), etc. A few of them explained who we were, what we were doing, and that everyone had been in the area for the past 2 years, meaning no risk of carrying the virus. It was a heated conversation my husband and I learned about later. I felt a little defeated, knowing we would have to work hard to repair and build relationships with untrusting neighbors.
A few days later, I was waiting at the gate for a friend and struck up a conversation with a grandpa that frequents a chair at the gate. After lots of "Who are you and what are you doing here?" questions, he finally asked, "Why did you have so many people over the other day?"
I was so happy to have an opportunity to defend myself! After explaining the occasion and that everyone in attendance had been in-country through the whole pandemic, he smiled. The rest of the conversation was pleasant and bridges were built. Now, I pray he passes on the info about the foreigners to the rest of the wondering neighbors.
8 years ago I wanted nothing more than to go "home." I'm so grateful God broke down my stubbornness to lead me to stick it out and dive into language study. I'm still nowhere near fluent, but the ability to have conversations with neighbors, friends and colleagues is invaluable. It has been and will continue to be a long-term investment. What a privilege to be part of this grand story!
*****
I'm all about make-ahead breakfasts, and I'm constantly searching for new ideas to change it up and keep the kids' (and my!) tummies full. This is an all-time fave. It's super quick to put together, can last all week in the fridge with just quick warm-ups, and can even freeze in individual bars. What more could you ask for? Oh, maybe flavor. It's perfectly chewy and slightly sweet!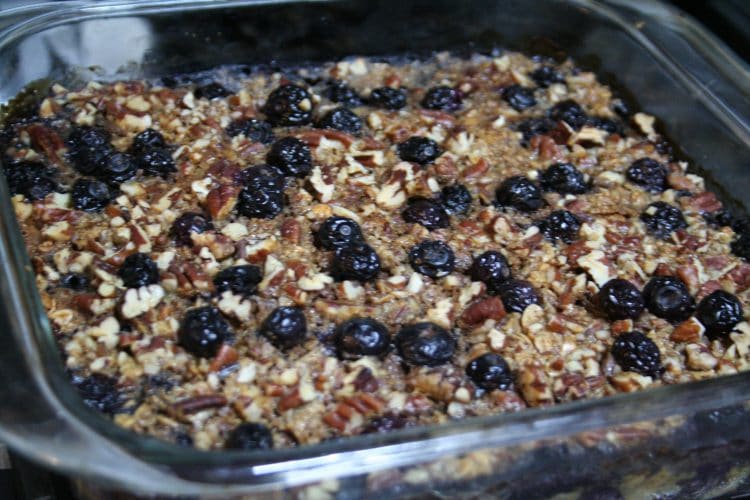 Baked Oatmeal
Makes: 12 bars
Ready in: 1 hour
Slightly adapted from: Once Upon A Chef
2 cups old-fashioned rolled oats (not instant)
1/3 to 2/3 cup packed dark brown sugar (depending on sweetness preference)
1 cup chopped pecans, divided
1 teaspoon baking powder
2 teaspoons ground cinnamon
1/4 teaspoon ground nutmeg
1/2 teaspoon salt
2 large eggs
1-2/3 cups milk
1 teaspoon vanilla extract
3 tablespoons unsalted butter, melted, plus more for greasing the dish
2-1/2 cups blueberries, divided*
Preheat the oven to 350°F (175*C) and set an oven rack in the middle position. Grease an 8-inch or 2-quart baking dish with butter.
In a medium bowl, combine the oats, brown sugar, 1/4 cup of the nuts, baking powder, cinnamon, nutmeg, and salt. Mix well.
In another bowl, break up the eggs with a whisk; then whisk in the milk and vanilla until well combined. Add the milk mixture to the oat mixture, along with the melted butter.
Scatter 2 cups of the blueberries evenly over the bottom of the prepared baking dish. Pour the oatmeal mixture over top and spread evenly. Sprinkle the remaining 3/4 cup nuts and 1/2 cup blueberries on top. Bake for 45 to 55 minutes, until the pecans on top are a rich brown color and the oats are set. Let cool for at least 5 minutes, then serve warm. Refrigerate leftovers and warm up when ready to serve.
*You can sub other fruit, just be careful of fruit with high water content that will make it soggy.