Only the Lord knew that when I signed up for this topic months ago, He would be bringing me through a hardship, digging daily to find some semblance of joy.
We're currently in week 3 of "quarantine" in our country of service, where the virus is still spreading. Thankfully—and I'm oh so thankful—we spent the first 2 weeks right after the virus broke out in Thailand at our annual conference. As things were tightening down by the day in our host country, we were conferencing and swimming and soaking up some much-needed vitamin D.
When it was time to return, I didn't want to come back.
Who wants to be stuck inside most hours of every day with 3 kids? Would there be enough food? What if someone got sick? I sure didn't want to go to a local hospital! The questions and rumors were flying around, making a decision even more confusing. Our local friends were telling us not to return. Many of our expat friends couldn't or decided not to return yet.
But my husband felt led to come back. Flights were still available and our neighborhood wasn't locked down. The door was still open.
You know those moments when you're not on the same page as your spouse or a friend when it comes to making a big decision? It's frustrating, right? Each person fights for their side. Walls go up. Tears are shed. Compromise seems out of reach.
We spent a whole day like this. I went on a walk on the beach to try to clear my head, asking the Lord to show me His way…make it clear. Because I'm one of those people that often needs to be knocked upside the head to choose obedience when I'm set on my own plans that seem perfectly fine.
Nothing came to me the rest of the day, so my husband and I stayed on opposing sides. He felt led to go back to support and stand by the locals—even if it was just through text and calls. I felt like living in a country that is mostly quarantined sounded super inconvenient and uncomfortable.
The next morning, I woke up still with a chip on my shoulder. I had moments of tenderness, asking the Lord to show me the way, then followed with all the reasons it was a bad idea to go back. During our morning session, He spoke. The speaker shared Matthew 9:36, and I knew it was for me. It says, "Seeing the people, He felt compassion for them, because they were distressed and dispirited like sheep without a shepherd."
Wow. Where was my compassion for these distressed people He had called us to serve? He didn't tell us to only serve them when it was convenient or comfortable for us. He didn't say it would always be easy. He didn't even promise we'd have everyone agree with our decisions. No, but He did promise that He would be by our side. What more could I want?
Through humble tears, I finally conceded. We returned.
During these last 3 weeks, I've had my share of down moments, doubting why we came back. Many of my predictions were correct: nothing is open, it's recommended we stay at home except to buy necessities, and the kids unravel quickly since they're in a small space all hours of the day.
But we're here. I have no idea how He's going to use this time, but I (after many doubting arguments with Him) know He will… and here's the kicker… I may not even know why until I meet Him in heaven. But I do know these are the plans He has for us, for right now.
Recently, I was reminded of the story of how our organization got started. A foreigner was here in our province, serving the locals, when WWII began. He and his wife sheltered locals in their home, trying to protect them from the bombs flying overhead. He passed away during the bombings, but many locals survived. Fast-forward 50 years, and imagine a King Ahasuerus-reads- the-scrolls-about-Mordecai moment, when the local officials found the record of the sacrifice of this foreigner. The officials contacted the man's family, invited them to the ceremony of the dedication of a monument for him, and invited them to come back and continue his work. (Side note: This country doesn't invite these kinds of workers often…ever?)
It took 50 years for His plans to unfold.
Even though I came back unsure, still complaining, I'm (mostly) choosing to rejoice that each day is a new day. I'm looking for the small joys. Things like extra time to read, do side projects, and try new recipes! I'm also rejoicing at the fact that this is the cleanest we've ever felt in this country. Everything is sanitized and there is soap and toilet paper in the bathrooms. Oh, may it stay this way!
Each day we have the chance to choose joy, even amidst trials (James 1:2-4) and even when we can't see the purpose. What will you choose today?
*Note to everyone who is stuck outside of their host country because of this virus: Please don't read this as haughty or pious. Believe me—it was an ugly process for me to come to an agreement! Even still, I know everyone's situation during this crazy virus time is completely different! There is no judgement for what you've decided, and I know for lots of you, the decision was decided for you! I trust you have sought the Lord, just as I did…hopefully you did with less arguing!
What do you do to help get you through trials? How do you remind yourself to keep looking for joy each day?
*****
Since I've had more time on my hands recently, I re-did my personal recipe book. I came across this salad that I used to make often, but had since forgotten about! Strawberries are in season, so it was time to resurrect this goodness. It's pretty simple, but always a crowd-pleaser. Someone is always hovering over the bowl when the greens are gone, gobbling up the remaining bits of yumminess.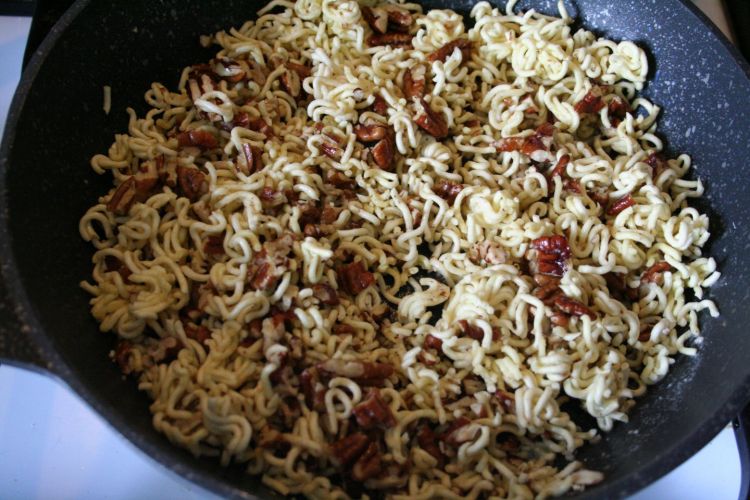 Crunchy Strawberry Salad
Serves: 8
Ready in: 20 minutes
Adapted from: All Recipes
1 (3 ounce) package ramen noodles
1 cup chopped pecans, walnuts, or almonds
1/4 cup butter
1/4 cup vegetable oil
3 Tbsp sugar
2 Tbsp red wine vinegar
1/2 tsp soy sauce
8 cups lettuce, chopped
2 cups fresh strawberries, sliced
Melt butter in medium skillet. Break noodles into small pieces. Saute noodles and nuts in butter for 8-10 minutes or until golden; cool.
For dressing: In a jar with a tight-fitting lid, combine the oil, sugar, vinegar and soy sauce; shake well. Toss lettuce with strawberries.
Serve dressing and noodle/nut mixture as toppings. You can mix altogether, but be sure to eat immediately to avoid the noodles getting soggy.