Cross-cultural living encapsulates so many areas! Daily life, language, creating a comfortable living space, making local friends, and helping our family adapt to a new culture. I have tidbits of advice in a lot of these areas, so I'm going with a list. I like lists.
10 Tips on Cross-Cultural Living
1. Lower Expectations Last week, Lauren wrote about keeping your high expectations as you move abroad—bringing new perspectives to us "oldies" on the field. I agree 100%! I would, however, say to lower your expectations a smidge when it comes to your living space, where you buy your food, and other local places. I know it will look different for everyone, but for us, it was a hard landing. We knew we'd be living in a hotel the first month with our then one-year-old, but we didn't know there wouldn't be a bathtub or that we'd have to wash all our clothes by hand. HELLO, privileged people. I know. I'm keenly aware of that now. When we arrived at our apartment, it was loads better, but we still had to get used to using cold water to wash dishes and clothes, killing ants and roaches, and not letting the toddler toddle too far, afraid he'd bust up something on the hard tile floors. Now, all of these things are completely normal to us, but it sure would've been nice to have known some of those norms our first few months! I also wish I would've given myself a few pep talks before and along the way that we signed up to move abroad! He called us! So, girl, let go of your wealthy (compared to the world) upbringing and gain a new perspective.
2. Daily Life Changes Your daily life may look completely different than when you lived in your home country, that's a given. How different, you won't know until you arrive, get your feet wet, and establish a routine of where to buy food, find what restaurants are good, etc. Although sometimes I long to get in a car and drive to Target to mosey around, when I'm back in the States, I long to walk or ride my bike places. Although I miss friends and family, I love the community culture on a summer evening when everyone comes out to walk, chat with neighbors, and watch the kids play.
3. Learn That Language! I'm a huge proponent for language learning because of how it so drastically changed my heart and attitude for living here. I didn't love living here the first few years—I was here out of obedience. But since learning (and still learning) the language, I can see much, much deeper into the culture and begin to understand some of the reasons they do the things they do…so, so opposite of my culture! People approach language learning in many different ways; my only encouragement is to study at whatever pace you can handle, and don't stop! What a blessing it is to have deep, meaningful conversations with locals in their own language. When they know they can express their hearts without having to fumble over English words, they will dive in fast.
4. Make A Home I remember various veterans telling us during training, and for the first few years in, to be sure to take time to make a comfortable living space. Decorate, have someone show you where to buy the things you need, and even a few wants. Aren't we more likely to invite others over if we have a space where we ourselves are comfortable? I struggled with this the first several years. We moved 3 times in 4 years. That doesn't make a mama of young kiddos want to put anything on the walls or shelves when she'll just have to pack it up in a few months. But, I encourage you to do it anyway. I was always embarrassed when anyone would come over at how empty it looked. There are several posts on VA from past writers about how to decorate well, on a low budget, and that's portable. Go check them out!
5. Beware of the Foreign Ghetto Again, all of our countries and teams will look different. You may be all on your own, or you may live in the same stairwell with your 13 teammates (our current situation). My advice is to not get caught up with living every day where you spend the majority of the time with other foreigners. If we are called to serve the locals, we need to spend a lot of time with them, right? There is definitely a balance—just be aware that being with those similar to your culture is way easier than being with those of an opposite culture. So go on and clash those cultures…in love!
6. Befriending Locals Depending on your country of service, language may be a huge barrier in making new friends. I get it. I lived like that for over two years. But we still made great friends. Thankfully, several people around us spoke decent enough English to hold some conversations. Once we learned how to interpret Chinglish, we enjoyed inviting students and neighbors over for a meal, tea, coffee, playing games, or just to hang out with our kids. Even if we didn't understand everything being said, we still had fun!
7. Food Love Two vastly different cultures can really connect over food; it's a deep root in every culture. I would advise doing a bit of research before feeding locals something from your home culture. I quickly learned a lot of Chinese literally get sick from so much cheese (sad, I know!) or dairy (fettucine alfredo, I'll save you for a family night) and that my go-to one pot meals and casseroles are so anti-Chinese, they just don't know what to do. So I've adapted my meals to fit their multiple-dish traditions, but still kept the American/Italian/Mexican/Indian/Thai-ness originality. Because, isn't the point to introduce something new? I mean, that's what my friend's family did with me last week when they served whole crabs (I couldn't handle it when they told me the little yellow balls—the crabs's eggs—were the best part!), shrimp with eyes and legs, and a whole—and I mean whole—roasted chicken "standing" on a skewer. I also have learned to tell them profusely that if they don't like something, to not eat it. It's tough eating new things, and I sure wish they'd reciprocate that gesture sometimes instead of being astonished at how we couldn't possibly love the same things they do.
8. Kids Are Adaptable Kids are amazing to watch in other cultures. If they want to play, they will! Language barriers, what language barriers? Charades and mimicking go a long way in kids' games! I would encourage you to get your kids into the culture as quickly as possible. That could mean attending a local school or making sure to be at the playground when the local kiddos are there, or having them join a sports team with locals. Language may be an issue in each of these, but as we know, kids' minds grow and adapt much faster, so take advantage of that window of opportunity!
9. Remember Your Calling When you hit a rough spot—and you will—think back to the excitement you felt before moving overseas. What brought you to this place? If it was a specific calling, hang onto that. Tell others about it so they can hold you accountable and pray for you during the hard, uncomfortable, culture-clashing times. God has a plan for us, we know that, but knowing that is a new level. Dig into His word, listen to His voice, and shed your tears with Him.
10. Do What They Do The longer you spend in a different culture, the more you will want to become like them. And they love that. We all think we doing things the "right" way, right? I never, ever thought I'd be one to drink hot water. In fact, in the beginning, I resisted it by making fun of it. It makes you warmer, really? But why would you want to be warmer when it's summer? Although I don't drink hot water in the summer, it's now a staple during the cold winter months—especially when the heat isn't on yet, but there is snow on the ground. When we imitate the locals, in little or small ways, we build yet another bridge between hearts. And bridges lead to deeper, more trusting relationships that may just listen to why you are so kind, loving, and compassionate.
Veterans, what advice do you have to the newbies about to move overseas? Newbies, what fears or hesitations do you have about your soon-to-be new home?
*****
I tried many, many biscuit recipes before I found my favorite. I had a biscuit in mind that I was trying to replicate: at least 3 inches thick, flaky, golden brown on the top and bottom, and pillowy soft on the inside. I wanted them just like the ones from Bob Evans. But for years, I kept finding myself gnawing on little hockey pucks, hoping a slab of butter or a dollop of jelly would somehow mask the fact that I was chipping teeth. Finally, I found it! If you keep making hard little hockey pucks, give these a try! I didn't change anything from the original, so I'll just share Alton Brown's great recipe.
Mix a little lemon juice or white vinegar with milk to make buttermilk. Simple!
The tiny butter and shortening chunks are what make the soft, flaky layers.
Super sticky, but don't add too much flour or you'll end up with tough biscuits!
Dust the table and the top of the dough–just enough to form a circle without sticking to everything.
You want it thick, maybe uncomfortably thick, to get those tall biscuits!
Biscuit cutter, IKEA cup, whatever. Squeeze in as many as possible the first round because the more you work the dough, the more dense they become during baking.
If they touch each other during making, they will stay soft on those sides. I like soft biscuits!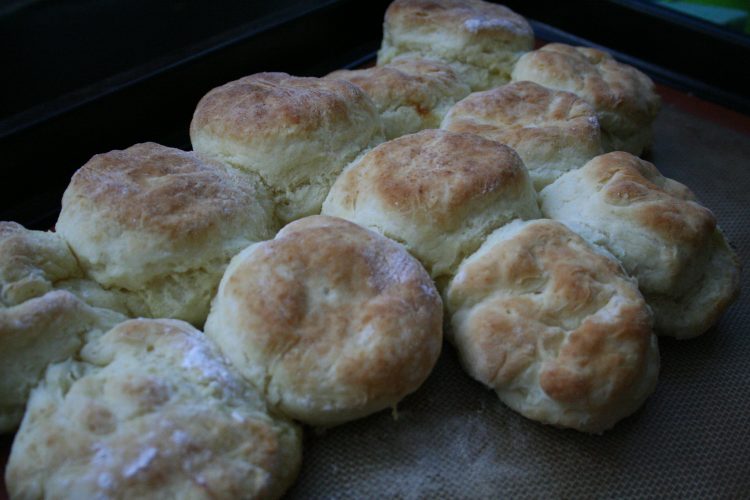 The sun was setting, and I'm not a pro photog, so imagine these are warmly golden brown.
Do you see that height?! Perfection.
Buttermilk Biscuits
Ready in 40 minutes
Shared from Alton Brown/Food Network
Makes 12 small biscuits or 6-8 large (my preference, which means I double this recipe)
Preheat oven to 450 degrees. In a large mixing bowl, combine flour, baking powder, baking soda and salt. Using your fingertips, rub butter and shortening into dry ingredients until mixture looks like crumbs. (The faster the better, you don't want the fats to melt.) Make a well in the center and pour in the chilled buttermilk. Stir just until the dough comes together. The dough will be very sticky. Turn dough onto floured surface, dust top with flour and gently fold dough over on itself 5 or 6 times. Press into a 1-inch thick round. (Thicker than you may think! Thick dough = thick, fluffy biscuits) Cut out biscuits with a 2-inch cutter (or your favorite color of kid's IKEA cup), being sure to push straight down through the dough. Place biscuits on baking sheet so that they just touch. Reform scrap dough, working it as little as possible and continue cutting. (Biscuits from the second pass will not be quite as light as those from the first, but hey, that's life.) Bake until biscuits are tall and light gold on top, 15 to 20 minutes.
*I realize there are various opinions on shortening/Crisco. I personally only use it for this and 2 other recipes, so I do keep it on hand. I'm sure if you omit it and double the butter, you will still get a biscuit, but I have never personally done it, so tell us how it turns out if you do!
**If you don't have access to buttermilk, like me, simply add 1-2 Tablespoons (sorry, I don't measure this part) to a measuring cup, then fill up to the 1 cup line. Stir and let sit for 5 minutes before adding to the dough.
Photo by Adam Sherez on Unsplash
SaveSaveSaveSave
SaveSave
SaveSave