We are a unique family. Even in the States, we stand out a bit; more so in some areas of the country than others. But in China, where we have served for nearly 7 years? We are a freak of nature. A zoo exhibit to stare at and sometimes touch or pet (yes, really).
My husband is African American, I am Caucasian and our three littles are a beautiful mixture.
God knew this plan he had for my life and started preparing me for it as early as 4th grade. I remember obsessing about Africa and its people. My parents invited exchange students from Mexico to live with us when I was in junior high. In high school I studied Spanish and enjoyed learning about various cultures. Even growing up in a small, mostly Caucasian town in Missouri, I knew the world was big and I was excited to discover it.
Before my husband and I got married, there was some push back from a few friends and family on both sides. Looking back, I know most of it was fear-driven and a lack of knowledge and exposure: Aren't you moving too fast? (We knew we wanted a short engagement!) What about your kids? It'll be hard for them to be mixed. Aren't you afraid of what other people will say?
Of course during that time, our love-filled eyes for each other were blind to see any issues in the future. We just knew we were supposed to get married. We'd figure out the rest when it happened!
We spent a year in the States after our first son was born and honestly, I felt no prejudices. Actually, the exact opposite. Any time we went out, people goggled at how adorable he was. His curly hair, long eyelashes, and soft, tan skin were irresistible.
When we moved to China, I couldn't understand anything the locals were saying until year 3, when I finally started studying Chinese. I started hearing phrases like, "Oh! Foreigner!" "Foreign baby doll!" "His eyes are so big!" "Look how long his eyelashes are!" "His hair is so curly! Is it permed or natural?" (Yes, really. To this day, this is still the most popular question!) Those were innocent phrases in which I tried my best to deflect, which was cultural, even though I, of course, agreed with their compliments.
But then I started hearing some that weren't as nice. Things such as: "His skin is white like his mother's; how beautiful. But his brother's skin is dark." "They all look like their father, but their mother's skin is so white." Confused, semi-disapproving looks following.
You see, in China and many other Asian countries, it's more popular to be fair-skinned than darker. Whitening agents and umbrellas, sleeve covers, and full-faced visors on sunny days are abundant.
So these people who were commenting on my kids' skin color were indeed saying one had "good" skin like his mama and the others were too dark like their daddy. Racism and prejudices know no country borders, folks. I'm sure you can pinpoint similar issues in the culture you serve.
By God's abundant grace, I've never lost it with any of these people. I simply responded with something about how each of them is beautiful and how in the West, most people like tan and brown skin more, even going as far as sunbathing to achieve it. They just can't wrap their minds around it, just like it's hard for me to wrap my mind around the fact that they put whitening agents in every skin care product sold in the land. And to think I spent the better part of my high school years trying to be tan, which is impossible for my skin tone, just to fit in!
Along with His grace, God has given my husband and I the perspective that, much like our friends and family before we got married, the Chinese people just don't know much about other cultures. They're curious. Some of them have never seen foreigners before, let alone multiple races within a single family. They have the view that dark skin means you work outside, which means you must be poor. Sound familiar?
Does that mean we're not offended sometimes? No. But we have to go back to where our identity is rooted. It's not set in what others say about us, how they view us, or even if they like us. It's in Christ alone, and we know exactly how He feels about us.
We are choosing to let the comments roll off our back and instead use our family as a platform and example to those around us. We start a lot of conversations by merely walking out the door! Opportunities to share His love and grace dropped in our laps multiple times a day is much more than we could've imagined! I have to remember a little suffering is so worth the lives that may be impacted. I mean, Jesus suffered a lot more than we do, and kept turning the other cheek, right? May I do the same. Every time.
Are you a multi-raced family? Whether yes or no, what obstacles have you come across with your host culture, perhaps experiencing being a minority for the first time? How have you handled them?
*****
Thank you Ashley for your beautiful post! If you're looking for something to eat while you reread and let Ashley's words soak in, I'd like to share my new fav food: the rutabaga. I have had to go off all starchy vegetables for a while and was looking for a new recipes when I read about the rutabaga. It looks like a turnip, but tastes more like a potato had a baby with lovely flavor . . . and that baby is much better for your body than a potato (so you can eat more fries!)
When I was reading recipes, I didn't even know what a rutabaga looked like. Turnips are on the left, rutabagas on the right.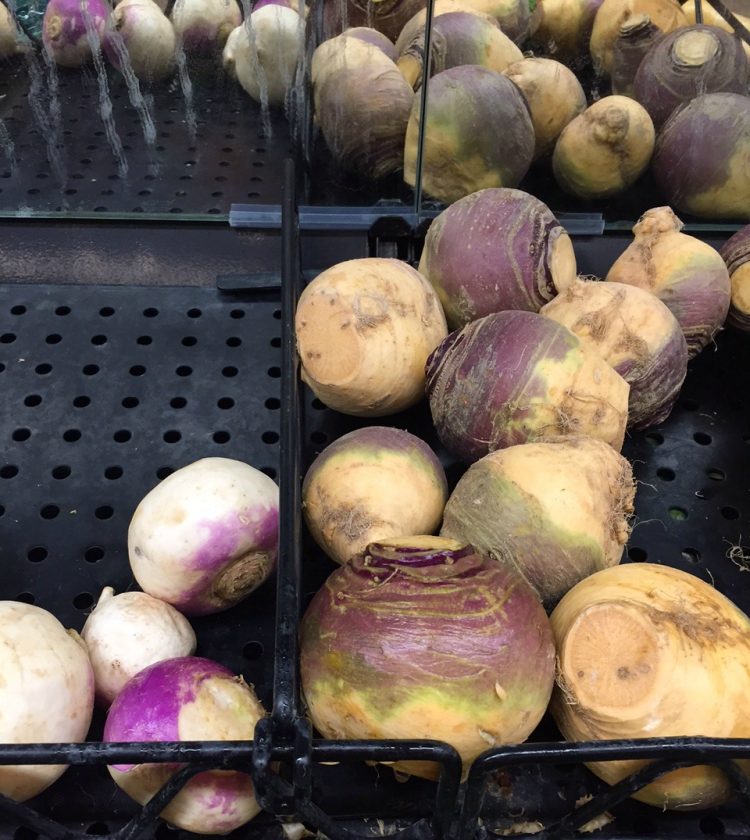 I will say, you need a good knife to cut them.
And then remember, oh yeah, you need to peel the rutabaga. Apparently I channel Edward Scissorhands when I use a peeler.
Next cut the rutabaga into fries (I've also tried cutting them in slices and mashed rutabaga).
Next coat them in olive oil (or whatever oil you have) and sprinkle with some salt.
Place on a baking sheet and put in a preheated oven. Know that they are going to take 30-45 minutes so don't wait until you are starving to start working on these little bits of deliciousness from heaven.
Part way through, stir so both sides get brown.
When done . . . enjoy! You might want to add a little more salt.
Not sold on them yet? "Rutabagas are an excellent source of vitamin C, a very good source of fiber, and a good source of potassium, manganese, and thiamin."
Slightly adapted from Very Well
Ignore her hopeful 15 minutes.
Ingredients
Preparation
Preheat oven to 400- 425 F (204-218 C).
Peel rutabagas with a paring knife and slice in 1/4″ rounds. If you like, you can do them in strips – they will cook a little faster, but you have to watch them carefully or they'll burn.
Smear with oil and a little salt and put them on a nonstick baking sheet.
Cook about 12 minutes, turning twice. Take out when golden brown and tender. Immediately sprinkle with garlic powder and paprika. I like to add kosher salt at the end as well.
I have also tried this delicious option: Almond-Crusted Root Vegetable "Fries." You may not have almond butter, I think peanut butter would work.