I know a lot of you were on top of things and chose your One Word at the beginning of the calendar year. Not me. I just couldn't come up with anything! I didn't want to be fake and just choose something just to have a word, so I let it go.
A few months ago, God let me know what he wants it to be. Joy.
I joked with a friend that it had just come to me, and she made a brilliant point: who says it has to follow the calendar?! YES!
Joy is a hard one for me. It's just easier for me to point out the negative, the lacking, the annoying and hard parts of life. Our first few years here, I was quick to bash the local culture—only seeing and pointing out the things I disliked about the masses surrounding me. When asked how I'm doing (and I know the one asking wants a real answer), I often go straight to complaining about my current circumstance.
These verses have come up in books, sermons, and from others' mouths more times than I can count recently:
"Rejoice always; pray without ceasing; in everything give thanks; for this is God's will for you in Christ Jesus." – 1 Thessalonians 5:16-18
Always? But how, God? How can I rejoice when my expectations are unmet? Over and over and over. How can I rejoice when my kids haven't stopped bickering since the moment they got out of bed? How can I rejoice when I want to be part of ministry outside the home, but there's little time outside my Mama duties?
It's daunting. It's a daily–scratch that– it's a moment-to-moment choice. I fail miserably multiple times a day.
But ever so slowly, I see God changing my heart to be more joyful. Thankful for where He has me, here and now.
Unmet expectations happen. Am I going to stay there and wallow, or look for new opportunities? Remembering God is looking at the big picture, which includes my unmet expectations, is comforting.
Kids argue. Siblings, even more so. Instead of barking at them for the twentieth time to stop fighting, why not stop what I'm doing and first thank God that he gave me these blessings? Yes, that seems impossible to me, too, on most days. But shifting my perspective is key.
During this season of life, my responsibilities at home are high. Three needy little ones make it tough to do much outside. So instead of being jealous of my husband who gets to go out and minister to those around us, why not bless him, be joyful for him as he goes? I know that blesses him in return.
This may be a long road for me. I have a lot to unravel first. I'm finding, though, that the more I abide in Christ, truly seeking him alone for my needs, my outlook begins to change.
Hard times are temporary. May joy come in the morning.
*****
I want to share this Apple Crisp recipe. I've made many a crisp in my days and this one tops them all. Sweet, cinnamon-y apples with the perfect, crunchy topping piled on top. Whether you're celebrating Thanksgiving this week or just love the aroma of cinnamon in your home, you have to try this out! (Then let me know how it turned out!)
I may or may not have eaten a handful of these in this state. I.love.cinnamon.
Do you see how the buttery, oat-y, nutty, cinnamon-y goodness seeps down deep into the apples? Mouth-watering goodness right there.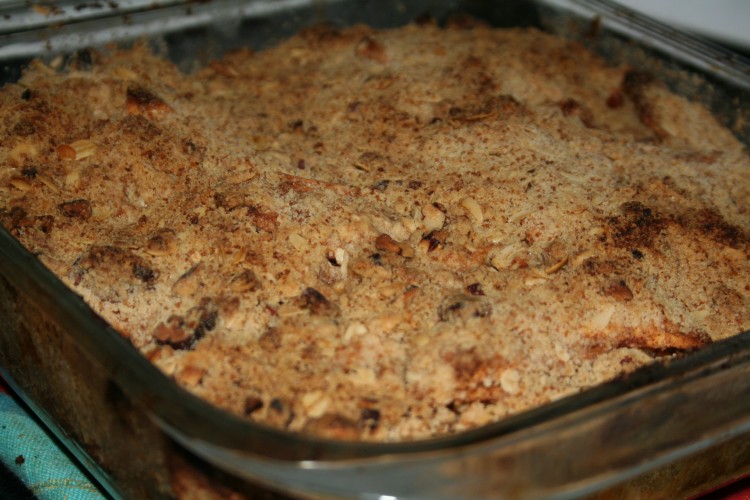 I tortured my friends for an entire hour with the cinnamon wafting through the house.
Good luck eating just one serving! 😉
Apple Crisp
Serves 9-10
Ready in 1.5 hours
Adapted from Joy the Baker
Filling:
5 to 6 medium-size apples, peeled, cored and cut into 1/4-inch slices. (About 7.5 cups)
3 Tbsp granulated sugar
1.5 tsp cinnamon
Topping:
1 1/3 cups all-purpose flour
3/4 cup lightly packed brown sugar
1/2 tsp ground cinnamon
1/2 cup butter, well-softened
2/3 cup finely chopped pecans (optional, but highly recommended)
1/3 cup old fashioned oats
Preheat the oven to 350. Generously grease an 8×8 baking pan with butter.
Place a layer of apple slices in the bottom of the pan and dust with sugar/cinnamon mixture. Continue layering apples and dusting with cinnamon/sugar until done. Toss the apple mixture until evenly coated in cinnamon sugar. The apples should be just about to the top of the pan (they will cook down).
For the topping, place the flour, brown sugar, nuts, cinnamon and oats in a large bowl and stir well. Work the butter into the mixture with your fingertips until evenly distributed. Take one full handful of the topping and toss it into the sugared apple mixture. Spread the rest of the topping evenly over the apples.
Bake the crisp in the dish on a baking sheet on the center oven rack until the topping is crunchy and the apples are bubbling, 50-60 minutes. (If you have a glorified toaster oven, be sure to begin checking at the 50 minute mark.)
Let it cool for 5-10 minutes. Serve warm. IF there are leftovers, re-heat in the oven.
**You can double this recipe and bake in a 9×13 pan.