I have a confession to make. An embarrassing one.
I stink at praying.
Not the kind where I'm gathered with others, voicing aloud our praises and requests. I thoroughly enjoy hearing others speak to God, pouring their hearts out to Him. I might enjoy praying with my kids the most—so innocent and full of expectation.
Nor the kind that only requires a quick prayer because my friend texted me shes's sick and doesn't know how she'll manage her 4 kids from bed. I've finally learned to stop right there and say a quick prayer right then, because honestly, I'll probably forget to do it later.
No, I'm terrible at sitting still and letting my mind stop…forcing my mind to stop churning long enough to even listen to what the Lord has to say. How embarrassing is that, especially as a "professional Christian"?
I'm only able to type those words and admit this weakness to the world because recently, my home fellowship pastor admitted the same thing. I was so relieved to hear I wasn't alone.
He told stories of the last several months of how God is renewing his prayer life. It's not easy for us squirrel-chasers! He told a hilarious but real scenario of his recent prayer times with the Lord. It started off with just 5 minutes. He set the goal low so he could actually attain it. When the squirrels came flying at him (read: random thoughts), he would fling them to the side of his imaginary pathway that he was walking on. As squirrels went flying, he'd continue "walking" along the path, quiet, listening to the Lord speak to his soul. It took him time to even reach the 5 minute goal.
Oh, how I can relate! I have such great intentions, but within seconds of quiet, I find myself flying down another path, and the quiet moment is long gone as I chase my thoughts and let them take over, not even remembering what I set out to do in the first place!
At first, his process sounded a bit kooky. Imagine myself on a path, chucking squirrels right and left? Who does that? But I've realized I need some sort of illustration to keep myself focused, otherwise my prayers are full of my own voice and never listening for His. Oh, the things I've missed out on because I kept running my mouth! I don't exactly imagine furry animals flying, but I'm making more of a conscious effort to stay focused and making those fleeting thoughts halt. Sometimes, if I have a lot on my mind (tasky things), I'll just write them down and commit to think about them later. It helps to at least know they're written down so I'm not worried about forgetting about them.
Now, I will say, God has his way of using fleeting thoughts, too. I can't count those out. But maybe if He wants us to pay attention them, He might just bring them back during another time when we're not trying to focus solely on listening.
I'm still not great at it. It still needs practice. But I'm learning that practice and training myself in this area is what is needed. That same pastor laid out the differences between trying and training. Often times, trying is us telling ourselves to give something a whirl, out of our own volition and strength. Training is more serious, right? We set goals, maybe have accountability, and make small changes to accomplish the end goal. I loved this analogy and have found comfort and encouragement in the passages that speak about training. (See 1 Corinthians 9:24-27; 1 Timothy 4:7; Luke 6:40)
I know I can't make these changes on my own. It's a balance of my own choices and God's grace, patting my hand, saying, "It's ok, Ashley. You can stay focused for a few minutes. I promise to make it worth your time." Like any other goal we set, accomplishing it (even in small increments) brings a sweet reward. There's no sweeter reward that a deeper connection with the Lord. May that continue to be my motivation!
Do you struggle with staying focused during quiet prayer? What do you do ignore distractions while praying, and specifically listening to God?
*****
I have a friend who can cook meat so, so well. I don't know if she grew up in the kitchen (she's one of 9 kids and her parents had a chicken farm, so it's likely), or if she's learned along the way, feeding her own family of 7. Either way, I've thoroughly enjoyed not only spending time with her, watching her run a chaotic household with such patience, but enjoying her delicious food! She pointed me to a blog (listed below) that I've really enjoyed learning from! I've made this chicken several times now, and everyone goes back for seconds and thirds. It's easy, quick, and so delicious!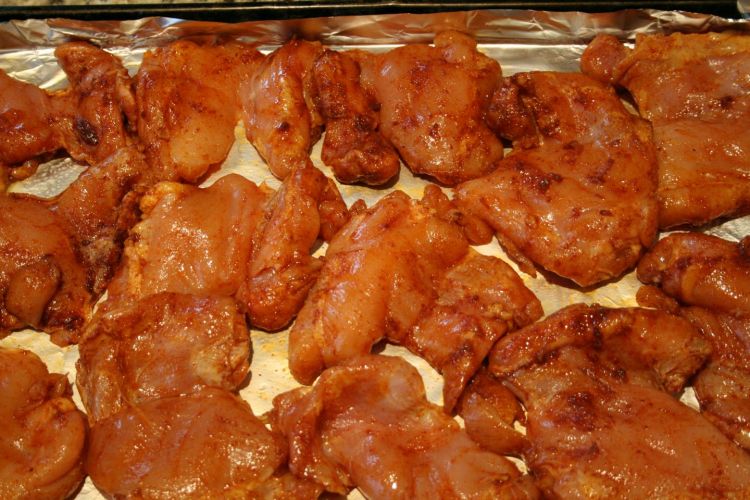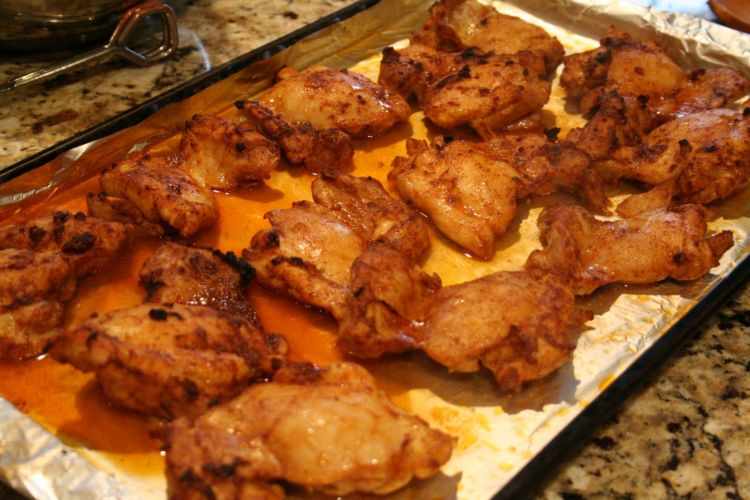 Sweet and Tangy Chicken Thighs
Ready in: 30 minutes
Serves: 6
Slightly adapted from: Once Upon A Chef
2 Tablespoons olive oil
2 teaspoons garlic powder
2 teaspoons chili powder
1 1/4 teaspoons salt
1 teaspoon ground cumin
1/2 teaspoon paprika
1/2 teaspoon smoked paprika (or add another 1/2 teaspoon of regular paprika)
1/4 – 1/2 teaspoon cayenne pepper, to taste (I omit this, but add if you don't mind some spice)
2-3 pounds boneless, skinless chicken thighs, trimmed
6 tablespoons honey
3 teaspoons cider vinegar
Set an oven rack in the top position and preheat the broiler. (Or if you're like me, just turn on your top burner of your glorified toaster oven as high as it can go!) Line a baking sheet with aluminum foil.
Combine the first 8 ingredients in a large bowl. Add the chicken thighs and toss to coat evenly. Arrange the chicken thighs on the prepared baking sheet.
Prepare the glaze by combining the honey with 2 teaspoons of the vinegar in a small bowl; stir well.
Broil the chicken for 5 minutes on each side (for a total of 10 minutes). Remove the chicken from the oven and brush half of the glaze on the chicken; broil for 1 minute. Remove the chicken from the oven and turn over; brush the chicken with the remaining honey mixture and broil for 1-2 minutes more, until the chicken is nicely browned. Remove from oven and transfer the chicken and pan juices to a platter and serve. Enjoy!