Amy here introducing my friend Tanya. "Introducing" doesn't begin to capture the excitement I feel in having Tanya here as our first post for the week. Tanya has many things to offer us, but today we're going to focus on one: her passion to help create space for people to form healthy and helpful theologies of suffering. She has had M.E.  (myalgic encephalomyelitis)  for over 6 years. For the past few years  it has worsened to the extent that she is almost entirely housebound, needing to spend a large portion of the day in bed. On her blog, Thorns and Gold , Tanya has hosted 38 guest posts on suffering! This is the kick off post and I'd encourage you to set aside some time this week to read through them … they offer a spiritual treasure trove when it comes to suffering and God. Tanya is in the midst of a relapse and might or might not be able to respond to comments, but I know she'll be blessed by reading them and knowing how much we appreciate her words. Below Tanya explains why she's named her blog Thorns and Gold.
******
If someone asks me what I believe about God and suffering, I don't want to reply in prose. I want to draw a picture in pastels, because you have to smudge and blend pastels, until the lines are blurred and unclear, and your hands get covered in dust. There is a lot of blurring and mystery in suffering, and much dust, too.
****
thorns
I select the colours of darkness and draw a branch with thorns in it. Paul talked about his suffering as a thorn in his flesh. I remember how it felt as a child to injure myself on a thorny bush, the thorns digging into my skin as I cried, and I remember that Paul also cried and pleaded with God for Him to take his suffering away.
Here is where we start – that suffering is bad. Sometimes as Christians, when we tell our stories of suffering, we jump too quickly to the 'God is good' part. It is not good that death and sickness and violence and evil are in the world, and God did not intend them in His good design. They were not there at the beginning; they will not be there at the end.
I have an autoimmune illness which is poorly understood, even by good medics. For the last four years I have had to spend the majority of the day in bed, resting, and I am only well enough to leave the house once a fortnight or so, in a wheelchair, for a couple of hours. It's ongoing, with little treatment or help, and my prognosis is uncertain. You may think that sounds isolating and frustrating – and you would be right.
When I draw suffering, I start with thorns and the fact that pain is painful, bad is bad, and the reason we find suffering hard is that it is hard.
Then I turn the thorns into a crown, and remember that those thorns and that suffering were thrust upon Jesus' head. When I am suffering I need to know that I worship a suffering God. He has experienced pain and isolation. He has wept.
****
gold
I draw with the colours of darkness, but I don't stop there. I highlight it with glints of gold.
In 2005, I was in the middle of a busy and exciting term as a minister to university students, when I woke up one day and couldn't read – the words were spinning in front of me. I didn't know it then, but I had Myalgic Encephalomyelitis, and this was my first relapse. I was in the middle of ministry, serving God, and it came to an abrupt stop as I had to spend the next two months resting in bed.
At that time of wondering where God was in all of this, a wise friend said something helpful to me: "I know that there is a lot of muck and confusion here, but God will be at work, even in this difficult situation. Look for the gold."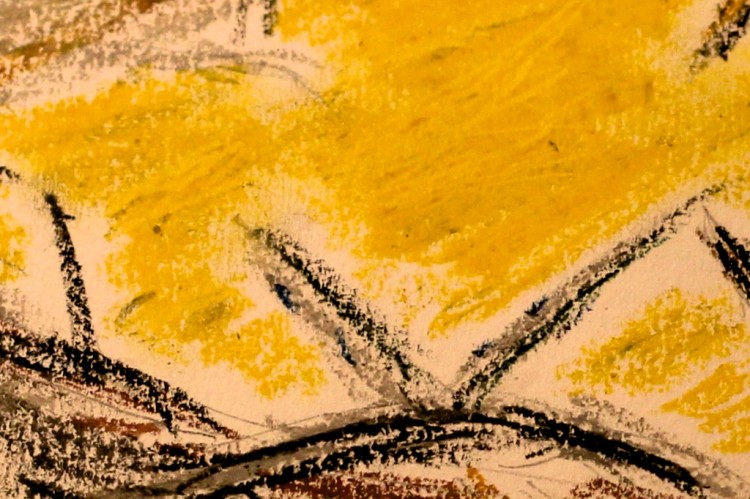 When Job was undergoing extreme suffering, he said, "But he knows the way that I take. When he has tested me, I will come forth as gold." (Job 23:10) There is something unique about suffering that brings about holiness and a purity of character. God has the power to work in all things (good, bad and ugly) for the good of those who love Him (Rom 8:28), and He has a habit of producing gold even out of desperate situations.
I confess, I find it hard to identify the gold that has come from my illness. Perhaps it is something that only others can see in us.
(Sometimes I use that as an angry bargaining prayer: "Hey, God – I'm not any holier with the suffering than before. It hasn't worked. How about we call it off, eh?").
When I am suffering, I pray for it to end. (I figure that as Jesus did the same in Gethsemane, that kind of prayer is allowed). But sometimes, when I can lift my head enough, this also is my prayer: "Let this suffering bring about some good change in me and the world. Let there be gold."
This is what I draw when people me ask about suffering, and this is what I write: thorns and gold.
What has been helpful (and not-so-helpful) in forming your theology of suffering? Do you have a theology of suffering? 
Photo Credit: Anne Marthe Widvey via Compfight cc