We've asked our beloved Emily of Emily Thomas Writes to share her top three writing tips with us today.  These are the gems she has for us…
1. Get other writers around you.
In High School I had an a wonderful English teacher who would assign interesting Essays that my friend Leslie and I would spend hours laying on the blue carpet of my living room floor writing. Writing is detestable to so many people but we had an exceedingly good time. She was amazing with words and I became a better writer from reading her work. Find your Leslie and write with her. It won't likely be as often or as in person as the luxury I was afforded in high school but it makes a world of difference to travel this inspiring (but often downright discouraging) path with a few fellow writers. This is a picture of a sweet time Amy Young and I recently stole (in an apparently very well-lit area) to talk about all of the writing.
2. It doesn't have to be perfect.  Just start.
Lisa Jo Baker's Five Minute Friday (where you write for five minutes on a one word prompt) has taught me two things: I can't write anything worth a darn in five minutes, but more importantly I learned that not even I know exactly what is going to come out when I sit down to write. It doesn't make sense. I'm the one writing. Shouldn't I know what I'm going to say? All I know is that when you simply write without stopping some interesting things happen.
When I taught high school in the jail, I had my students write this way for 5 minutes. Some remarkable words were recorded as a result. I would encourage you to give it a try. I do not typically encourage others to adopt the habits of my inmate students, but in this case, I think it is a great idea.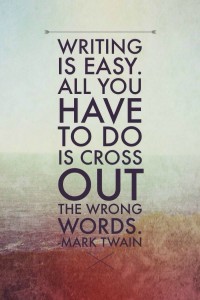 3. It's okay if only your Mom reads it.
My journey with writing has been a long one. My first "published" work (if you consider lamination a form of publishing) was in 4th grade when I wrote about Percy the pig ballerina. It was widely read by both my mother and the teacher who assigned it.
Nothing good comes from too much looky-looky at your stats. There is a fine (almost invisible to the naked eye) line between looking to see "how I could better serve my readers" and checking every five minutes to see "if I'm famous yet." These statements are written in the first person because I am openly chastizing myself here. There was one day several months ago where "an open letter to cool moms" went viral and so I started clearing out my schedule for Good Morning America and Jimmy Fallon appearances.
Although not famous (yet), I have received unsolicited feedback on several occasions that my words were the words other people couldn't find to describe their experiences. I have repeatedly received texts and emails saying "I'm crying in public. Please stop doing this to me." While I never intended for all the breakdowns, I am thankful that my words are connecting!
I'm not trying to build myself up here but when I write, it's fairly easy. If you write, you understand. Words are always swirling around. I construct and deconstruct the perfect sentence in the shower. It's just what I do. Other people have other (more lucrative) "things." My husband says words I have never heard before when he works and does math that makes me think he is some sort of genius robot. It's easy for him, it's just what he does.
If you're a writer, you have the ability to give words to the person who knows "something is going on" with them, they just don't know what it is. My stats aren't super impressive at this point but I do know a small difference has been made at some point for a couple people and that's enough.
I leave you with Elmore Leonard's words for when you're tempted to make this writing thing too complicated:
What helps you write?