Can you imagine the number of collective miles (or kilometers) we share between all of us?
I'm no mathematician, but we're talking millions of miles/kilometers, right?
Now imagine the collective amount of travel wisdom and know-how that we share. Yeah, all the lessons learned the hard way, all the game changing tricks we've picked up.
That's why we're going to create our very own "Treasure Trove of Travel Tips" (say that five times fast.) Because we all know that little tips can make a big difference when it comes to surviving and enjoying all the travel involved in our lives.
I'll start us out, but for this to be a full-blown treasure trove, you all have to chime in with everything you know about all things travel.
Let's include advice and tips for air travel, train rides, and road trips, because Lord knows many of us do lots of all forms of travel.
Ok, here we go:
Travel Tips:

#1 – Never fly United.
#2 – Never travel with children.
Kidding, I'm kidding. Sort of. #1 is my little revenge for the worst traveling experience of my life, but we won't get into that.  And for #2, the best way to make kids good travelers is to…wait for it… travel with them! And consider it your own personal refining fire until they are at least 4.
Ok, on with the real list. (And I promise to include tips for traveling with littles.)
Technology
Wireless G3 – A hard drive that creates a wireless connection between itself and your mobile device so that you can watch movies and shows without taking up the limited space on your mobile device. Now you can watch what you want to watch and not be limited to the airline's lame selection. And you can back up all your pictures easily with this thing too. Oh, and it can charge the battery on your devices too. Never be stuck at the airport with a dead phone again.
Luggage Scale – Raise your hand if you've ever created a scene trying to shift weight around in your luggage in the middle of the airport while the airline worker and the whole line behind you watches. Yeah, super stressful. This is why it's so important to have an accurate luggage scale. This is the same brand as the one we've used for nine years. Super portable and deadly accurate. We astound the airline workers every time when every one of our bags is at exact weight.
Headphones – According to my acoustical engineer brother-in-law, the "noise cancellation" feature claimed on headphones ads is all a gimmick. For limiting outside sound, you actually have to have something that goes all the way over your ears. He says the best combination for price and sound quality are these. My husband has used these for years and absolutely loves them. I prefer something that doesn't take up as much room in my bag. I'm actually on the hunt for some. Recommendations?
Flight adapter – Older airplanes still have the two prong headphone jacks, which leaves you stuck using the crummy headphones from the airline (that you sometimes have to pay for).
Kids
Homemade
pompom toy – General consensus is that the toddler years are the hardest for traveling. This simple, cheap toy has an amazing ability to hold a toddler's attention for longer than just about any toy out there. Use whatever size container you want. Nice and lightweight for the diaper bag.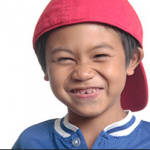 Special Play Time –traveling seasons can be really stressful for kids. Establishing "special play time" before a big trip/move helped my kiddos tremendously. We did short 10 minutes times daily (or almost daily), and it's amazing the connection and calm this brought. If you establish the idea and routine beforehand, your child will be thrilled when you offer "special play time" on the plane.
Stash of lollipops – kids love to have their epic meltdowns while going through airport security. So before it's our turn, it's lollipops for everyone! It keeps them happily distracted so mom and dad can do the mad dance with carry-ons/backpacks/shoes/strollers/electronics. I don't promote bribing with candy, but that rule goes out the window when we're in the security line, because survival.
Road Tripping

5 Ways to Keep Kids Busy in the Car – Warning: Super mom alert. Do not compare yourself to her. The world has very few women who plan and prepare five fun kid activities for a two-hour car drive. Grab and use whichever of these great ideas you like, but do not compare and feel like you should be her. End of rant.
Electric Cooler – How did I not know these exist?? The worst thing about road trips is the blah feeling you get from all the sitting and all the fast food. I did not know you could put a mini-fridge in your car! Plug it in and keep your food cool for every leg of your trip with no ice! Smaller version also available.
Podcast & Audio Books

If you're one of the picturesque families that reads a family book out loud on road trips, I'm so happy for you. Truly I am. But if you're a family like us, where the kid in the back row can't hear unless you're yelling the story, and you feel carsick two pages in, then maybe audio books, podcasts and movies are the way to go.
Chronicles of Narnia on Audio/Radio Theater – need I say more?
Mom Struggling Well – Get ready to laugh and cry with Emily Thomas and the amazingly real moms she interviews.
Top Ten Podcasts – the list Emily Thomas shared with us right here at Velvet Ashes.
Try the audio versions for two of Velvet Ashes' book club books!  This month we're reading Around the World in Eighty Days, and in September we'll read Wonder.
Apps
10 of the Best Travel Apps – I would add the Airbnb app for finding great places to stay.
21 Free Educational Apps for Kids – plus Starfall is a favorite of ours.
Squ
are Cash – here's a little cultural informant tip for anyone coming back to the U.S. Square Cash is the new cash. Use the app to send money to a person for free. It's how you pay friends back or pay the babysitter. Now you don't have to look clueless when someone asks you if they can "square cash" you. You're welcome.
Story Kit – This super basic app makes an excellent way for you or your kids to make a visual storybook with your own photos and words. We made a book called "Goodbye China" of all our special places and people. The kids read this every night for weeks during our travels and transition. It was then neat for the kids to show loved ones their "book" when we arrived. I've also made "We're going to _____" books before we travel to help my  visual processor understand what's going to happen on a trip.
Random
Poo-Pourri – Let's be real. Travel often involves living in close quarters and sharing bathrooms (and therefore bodily smells) with other people. Did you know you can save yourself embarrassment with one little squirt in the toilet before you go? It really works! No stink, just a pleasant scent! Forget travel, marriages need this.
Family Flying Tip – Keep a laminated card with family's DOB, Passport #s. Of course you know when your children were born. But when the flight attendant wakes you from the dead sleep that took you hours to fall into, stuffing a form in your hands, your poor foggy brain does NOT want to have to work to recall that info or scramble through passports. Save yourself the brain power.
*****
Ok, that's the start of our Treasure Trove.  Your turn!  I know you've got so much to add!  To keep some organization to the comments, and to make it easy for people to scan the comments, put the category ( you can make your own categories!) in BOLD CAPS followed by your tips/advice/recommendations.  And spiritual travel advice/wisdom is definitely welcome too!
WHAT HELPS YOU SURVIVE AND ENJOY TRAVEL?
This is The Grove.  It's where we gather to share our thoughts, our words, and our art.  So join us in the comments.   Link up your own blog posts or Instagram posts on this week's prompt: TRAVEL.  Click here for details and instructions. 
*Amazon affiliate links included above. Purchases made through these links go towards supporting Velvet Ashes and it's ministry.